Project Location

Racine Street Bridge, Menasha, Winnebago County, Wis.
Project overview
The selected alternative includes a full reconstruction of the bridge on a slightly different alignment and reconfiguration of both adjacent intersections.
Improvements include: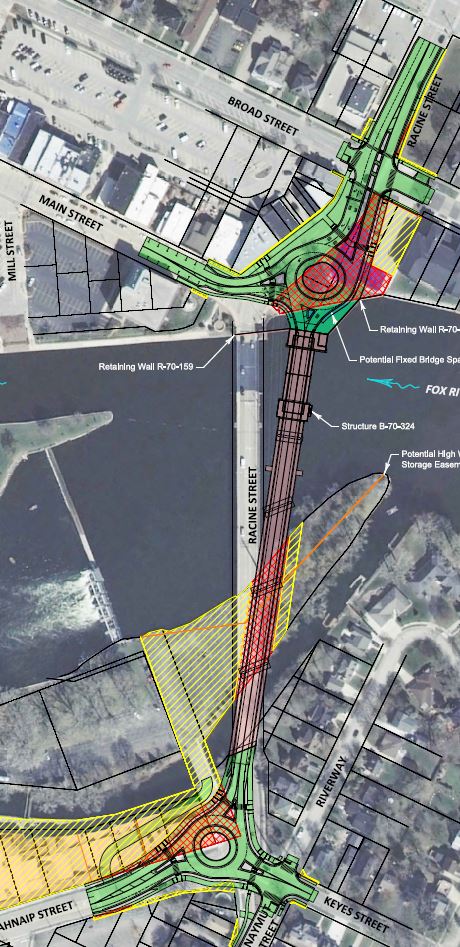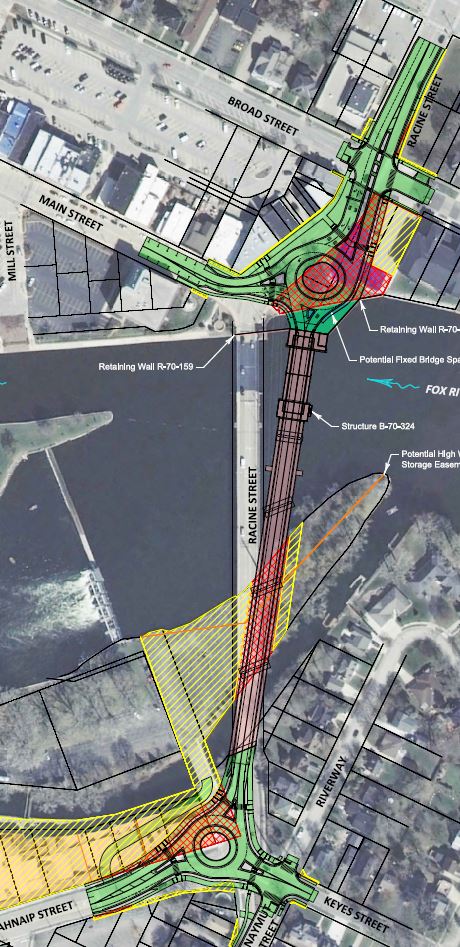 Two-lane drawbridge (moveable span)
Increased lane widths and shoulder
Roundabouts at Main Street and Ahnaip/Keyes Street intersections
Improved vertical clearance for marine traffic
Accommodations for bicycle and pedestrian traffic
Construction staging and traffic impacts
Construction will begin in September 2020 and is expected to finish in November 2022. Construction will be completed in three stages. A staging overview display is available for print below.
Stage 1 (Fall 2020 – Fall 2021) – Bridge OPEN
Racine Street Bridge and adjacent intersections remain open to traffic.

Construction begins within river on new bascule span
Stage 2 (Fall 2021 – Summer 2022) – Bridge CLOSED
Racine Street Bridge is closed to vehicle traffic
Racine Street intersections at Main Street and Ahnaip Street remain open
Continue construction of new bascule span and begin construction of fixed approach spans
Demolish and remove existing Racine Street Bridge
Stage 3 (Summer 2022 – November 2022) – Bridge CLOSED
Racine Street Bridge is closed to vehicle traffic
Racine Street intersections at Main Street and Ahnaip Street are closed to vehicle traffic
Continue construction of new bascule span and fixed approach spans

Construct new roundabouts

at the Racine Street intersections with Main Street and Ahnaip Street
Detour
3

rd

Street (WIS 114) to Tayco Street to Nicolet Blvd to Ahnaip Street
Public construction outreach
In fall of 2020, a public construction update meeting will be held with the contractor to provide an overview of the project construction and answer any questions you may have. Please check back for date/time/location of public meeting.
Project Benefits
The existing bridge was constructed in 1952 and is nearing its service life. While the bridge is still safe for vehicular travel, a recent investigation of the bridge has identified a number of issues that need to be addressed.
Improved safety – Increases width across bridge with 11-foot travel lanes, 5-foot bicycle lanes and 6-foot sidewalks on both sides. New bridge also improves safety and traffic flow by constructing roundabouts at the intersections of Racine Street with Main Street and Ahnaip Street on both sides of the river.
Improved traffic flow/boat passage – Allows for the inclusion of an auxiliary navigation channel with greater clearance immediately south of the bascule span. This auxiliary channel allows more boats to pass under the bridge without requiring operation of the bascule span. There is less delay for boaters and less traffic congestion in the downtown area from bridge openings.
Improved multi-modal opportunities – Better accommodations for bicycle and pedestrian travel and links to the planned river walks on both shores.
Less future impacts – The bridge replacement will extend the bridge life roughly 75 years before the next major bridge improvement is required.
Minimize construction impacts – While the overall construction will take two years to complete, construction of a new bridge will only require the closure of the existing bridge for the last 9-12 months of construction.
Aesthetics – An opportunity for some aesthetic enhancements to the appearance of a new bridge.
Note: For information regarding project need, environmental study, past alternatives, and design, please see the Racine Street Bridge design website.