***NEW: BRIDGE OPENED APRIL 19, 2023***
Website for reference only.
Read Press Release: Racine Street Bridge Opens April 19 (Issued April 12, 2023)
Racine Street Bridge, Menasha, Winnebago County, Wis.
Project overview
The selected alternative includes a full reconstruction of the bridge on a slightly different alignment and reconfiguration of both adjacent intersections.
Improvements include: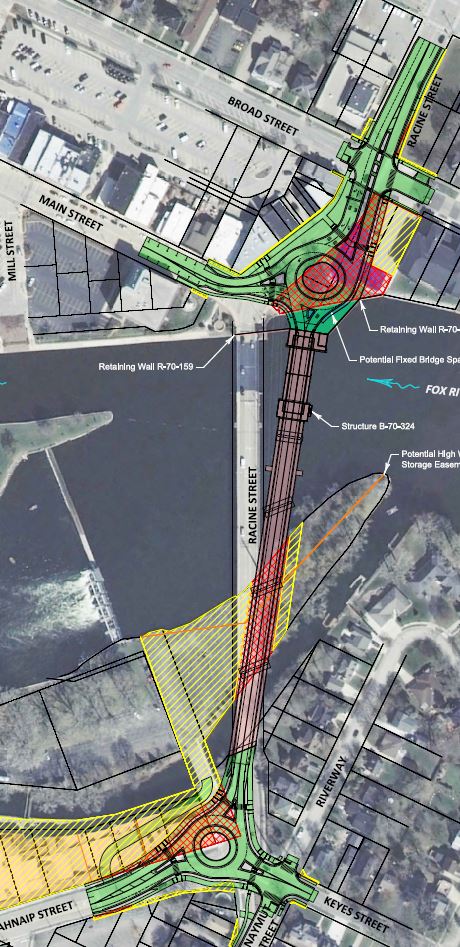 Two-lane drawbridge (moveable span)
Increased lane widths and shoulder
Roundabouts at Main Street and Ahnaip/Keyes Street intersections
Improved vertical clearance for marine traffic
Accommodations for bicycle and pedestrian traffic
Construction staging and traffic impacts
* The Main and Ahnaip Street roundabouts are OPEN!! 
Construction began in October 2020 and is expected to finish in fall of 2022. Construction will be completed in three stages. A staging overview display is available for print below.
Stage 1 (October 2020 – September 26, 2021) – Complete
Racine Street Bridge and adjacent intersections remain open to traffic.

Construction begins within river on new bascule span
Stage 2 (September 27, 2021 – May/June 2022) – Bridge Closed Complete
Racine Street Bridge is closed to vehicle traffic
Racine Street intersections at Main Street and Ahnaip Street remain open
Continue construction of new bascule span and begin construction of fixed approach spans
Demolish and remove existing Racine Street Bridge
Stage 3 (May/June 2022 – April 2022) – Bridge Closed Complete
In late May/early June 2022, we expect to move into Stage 3 which involves construction of the Racine Street roundabouts at Main Street and Ahnaip Street. However, the city of Menasha expects to close the Racine Street & Main Street intersection in mid-late March to complete utility relocations in advance of Stage 3. Once that intersection closes to traffic, we expect the closure to remain in effect until the completion of Stage 3 in Fall 2022. There will also be some traffic impacts near the Ahnaip Street intersection while the city of Menasha completes utility work in that area.
Stage 3A (Spring 2022 – September 2022) Bridge Closed Complete
Racine Street Bridge is closed to vehicle traffic
Racine Street intersections at Main Street and Ahnaip Street are closed to vehicle traffic
Continue construction of new bascule span and fixed approach spans
Construct new roundabouts at the Racine Street intersections with Main Street and Ahnaip Street
Stage 3B (September 2022 – April 19, 2023) Bridge opened Wednesday, April 19, 2023.
Racine Street Bridge is closed to vehicle traffic
Racine Street intersections at Main Street and Ahnaip Street are open to vehicle traffic
Continue construction of new bascule span and fixed approach spans
Bridge will reopen to vehicle traffic prior to the 2023 navigation season
Temporary Business Signing
Temporary business signing may be placed during the detoured portion of the project by filling out a WisDOT business signing permit. All temporary business signing needs approval via the permit before placement to ensure it is in a safe location and does not pose a visual distraction or traffic hazard. The temporary business signing permit is free. Costs associated with creating the temporary sign are the responsibility of the business.
Please keep the following items in mind regarding business signing:
Temporary business signing cannot be placed on traffic control devices or state signs. Business signs attached to these devices will be removed.
It is encouraged that businesses team up to have multiple businesses advertised on one sign structure versus several individual signs. This makes it easier for travelers to identify signs and find their destination.
Temporary Business Sign permits are available as a fillable-form WORD download (below) or you can request one from WisDOT Project Manager Bill Bertrand, P.E. at (920) 360-3124 or email at william.bertrand@dot.wi.gov.
Please email the completed permit to Bill Bertrand, or if you prefer to mail the completed form, please address to: Bill Bertrand, WisDOT NE Region, 944 Vanderperren Way, Green Bay, WI 54304.
In This Together Business Resource
WisDOT recognizes businesses located in work zones have special needs. While signing and other marketing/advertising during the construction is up to the business, WisDOT has business resources available through its "In This Together" website to assist businesses with planning for construction closures and to minimize the impact of construction. For more information, please visit WisDOT's In This Together website.
Public construction questions and contact
The public will be kept up to date via this website and mailings to local property owners/businesses.  WisDOT has an on-site engineer who is the primary local contact for any daily construction issues or questions during the construction phase.
On-site engineer Kyle Witte; Phone 920-366-0920; Email kyle.witte@dot.wi.gov. We ask that you please contact Kyle either via phone or email to limit in-person contact and maintain safety.
Current real estate and utility relocation status
Real Estate: Real estate acquisition has been completed for the project. Razing of the former Larsen dental office building on the north shore and the former Banta warehouse on the south shore were completed in 2020 prior to the start of construction.
Utility Relocations: Numerous utility companies need to adjust their facilities on both shores and across the river to accommodate the bridge replacement project. Some utility work was completed prior to the project and some will occur during our construction to minimize local traffic impacts. Please monitor local message boards for utility traffic impacts.
Project Benefits
The existing bridge was constructed in 1952 and is nearing its service life. While the bridge is still safe for vehicular travel, a recent investigation of the bridge has identified a number of issues that need to be addressed.
Improved safety – Increases width across bridge with 11-foot travel lanes, 5-foot bicycle lanes and 6-foot sidewalks on both sides. New bridge also improves safety and traffic flow by constructing roundabouts at the intersections of Racine Street with Main Street and Ahnaip Street on both sides of the river.
Improved traffic flow/boat passage – Allows for the inclusion of an auxiliary navigation channel with greater clearance immediately south of the bascule span. This auxiliary channel allows more boats to pass under the bridge without requiring operation of the bascule span. There is less delay for boaters and less traffic congestion in the downtown area from bridge openings.
Improved multi-modal opportunities – Better accommodations for bicycle and pedestrian travel and links to the planned river walks on both shores.
Less future impacts – The bridge replacement will extend the bridge life roughly 75 years before the next major bridge improvement is required.
Minimize construction impacts – While the overall construction will take two years to complete, construction of a new bridge will only require the closure of the existing bridge for the last 9-12 months of construction.
Aesthetics – An opportunity for some aesthetic enhancements to the appearance of a new bridge.
Note: For information regarding project need, environmental study, past alternatives, and design, please see the Racine Street Bridge design website.
Archived press releases
Read Press Release: Schedule Modification (Issued Jan. 17, 2023)
Read Press Release: Schedule Modification (Issued Dec. 13)
Read Press Release: Roundabouts Opening (Issued Sept. 15)
Read press release: Schedule Modification (Issued Aug. 18)
Read latest United States Coast Guard Local Notice to Mariners regarding Racine Street Bridge