I-43 Rest Area Replacement
This website details proposed reconstruction and improvements scheduled for Rest Area 51 and 52 on I-43 in Manitowoc County.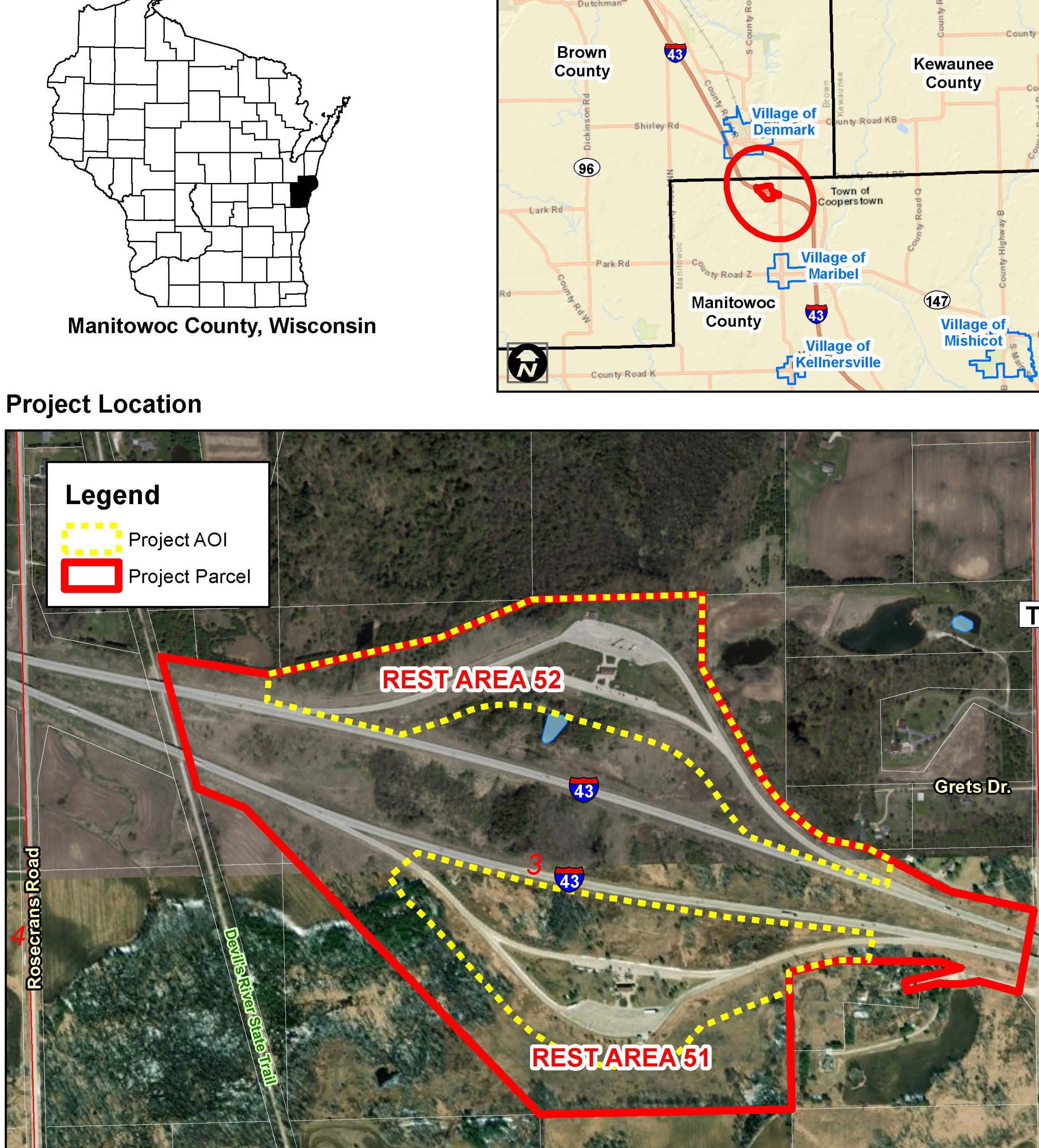 View I-43 Public Involvement Meeting News Release (pdf)

Project location
The rest areas are located on I-43 in Manitowoc County, just south of the Brown County line, on both sides of the interstate. The specific location is: Section 3, Township 21 North, Range 22 East in the Town of Cooperstown, Manitowoc County, Wisconsin.
Project purpose and need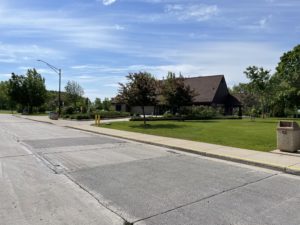 The purpose is to preserve the function of the rest area facilities in the safest and most efficient means available, and to support of crash reduction on the interstate system. Rest areas increase safety and efficiency by providing off-road locations for drivers to rest, sleep, change drivers, and check vehicle loads and/or minor mechanical problems. Current needs include:
Roadway deficiencies including pavement deterioration, ramp geometry, and substandard beam guard
Parking capacity for automobiles, trucks, and Recreational Vehicles (RV)
Facility modernization including restroom facilities, building mechanicals, ADA accessibility and pedestrian circulation, aesthetics, information distribution and tourism promotion, and alternative fuel considerations
Proposed improvements
WisDOT proposes a complete replacement of the travel center facilities at both Rest Area 51 and Rest Area 52 on either side of I-43 in Manitowoc County. All work would remain within the existing rest area boundaries. Proposed construction includes:
Full razing (removal) and construction of new rest area buildings.
Parking lots improvements including pavement replacement and possible expansion of parking for commercial and recreational vehicles.

Design will include investigating alternative fuel options at rest areas.

Maintenance garages at both locations razed and replaced.
Reconstruction of ramps and roadways to rest areas.
Landscaping, sidewalks, walkways, and other site amenities.
New facilities designed for ADA compliance.
New family-assisted restrooms

These restrooms will include baby and adult changing stations. Project intend to have the family-assisted adult changing station to be sized for full ADA compliance with power lift capability.
Project displays and exhibits are attached below.
Schedule
The project is currently in the design phase. Construction is anticipated to occur in 2024 – 2025.
Traffic and facility use during construction 
The rest areas buildings and other location will require closures during construction.
Parking facilities will remain open to cars and trucks during initial rest area building construction.
Temporary restroom facilities will be provided.
Parking availability may be reduced to accommodate site or building construction.
A full closure of entire site will be required to complete parking lot and ramp construction.
Some lane closures on I-43 will occur.
Right of way needs
Right of way acquisitions are not anticipated as part of this project.
Public comments
Your comments are important to us to obtain input that will assist the department in the further development and refinement of a final design. We are looking to obtain information on how you use the rest area facilities and any specific comments or concerns you may have about the facilities that will assist the department in finalizing our design. Please email or call WisDOT project managers Joseph Coughlin or Biren Patel with comments or questions. You can also use the below pre-paid mailer and mail to Mr. Coughlin or Mr. Patel. You can also take the online survey with just one click.
A public involvement meeting took place on October 12, 2022.
Project Contacts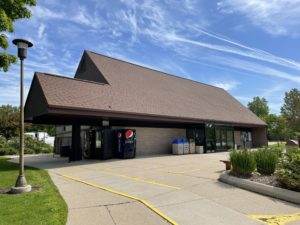 Please feel free to contact us with any questions, concerns, comments or feedback you may have.
Joseph Coughlin, P.E., Project Manager
WisDOT – Bureau of Highway Maintenance
Hill Farms State Office Building
4822 Madison Yards Way
Madison, WI 53705
(608) 261-8975
Joseph.Coughlin@dot.wi.gov
Biren Patel, P.E., Project Manager
WisDOT – Bureau of Highway Maintenance
Hill Farms State Office Building
4822 Madison Yards Way
Madison, WI 53705
(608) 266-7231
Biren.Patel@dot.wi.gov