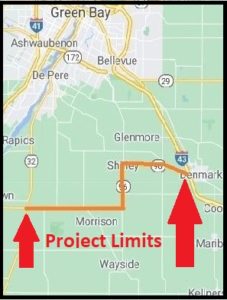 ***NEW — WORK RESTARTS MONDAY, MAY 8!
This website details construction scope, schedule and traffic impacts for the WIS 96 Project in Brown County taking place in 2022 and 2023.
Project Location
WIS 96 from WIS 32 in in the town of Greenleaf to I-43 in the village of Denmark, Brown County.

The project begins just east of Breckenridge Falls Boulevard in Greenleaf and ends just west of the I-43 interchange in Denmark.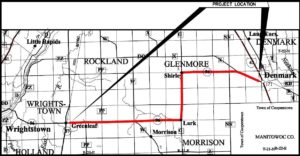 Project Improvements
Mill, Cold-In-Place Recycling (CIR), and overlay of the existing asphalt pavement
Beam guard replacement and necessary grading
Culvert pipe replacements and drainage improvements
Replacement of the existing box culvert between County X and Ronk Road with a new single span bridge structure
Miscellaneous storm sewer repairs in Lark and Shirley
Centerline rumble strips
New pavement markings
Project Benefits
WIS 96 provides a vital system linkage between I-43, the Fox River and the surrounding communities. These improvements will address the deteriorating roadway surface and the deteriorating bridge structure east of the County Road X intersection. Improvements will extend the pavement service life and decrease future maintenance costs. It will also provide a smoother driving surface for motorists. Repair and replacement of culverts help ensure adequate drainage to mitigate possible flooding.  New rumble strips will alert drivers who leave the travel lane. This provides an enhanced opportunity for driver correction and help mitigate run-off-the-road incidents.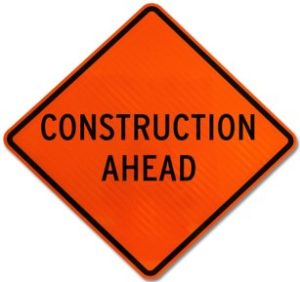 Construction Schedule
Construction expected to begin in August 1, 2022 and finish in summer 2023.

There will be a pause in construction for winter 2022/23 until paving operations can begin again on May 8, 2023.
Please see the Northeast Region Weekly Construction Update for a 2-week snapshot of construction activities and traffic impacts.
Traffic Impacts
2023 traffic impacts: WIS 96 will remain OPEN during paving operations with flagging operations.
2022 impacts: (For reference only) The project will be constructed in stages to minimize impacts to the traveling public. The project is scheduled to be divided into the following segments with corresponding detour routes.
(Complete) Segment 1 Closure (August 15 to August 29, 2022: 2-week closure) – Wobeck Lane to County G in Lark

Detour: Through traffic will be directed to use WIS 32/57, County Z, County W, County Z, County G

(Complete) Segment 2 Closure (August 29 to early November 2022) – Shirley to Denmark (County G, North Junction of I-43)

Detour: County G, County Z, I-43
Temporary Business Signing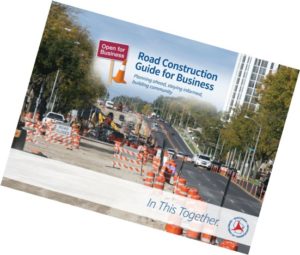 Temporary business signing may be placed during the detoured portion of the project by filling out a WisDOT business signing permit. All temporary business signing needs approval via the permit before placement to ensure it is in a safe location and does not pose a visual distraction or traffic hazard. The temporary business signing permit is free. Costs associated with creating the temporary sign are the responsibility of the business. It is encouraged that businesses team up to have multiple businesses advertised on one sign structure versus several individual signs. This makes it easier for travelers to identify signs and find their destination.
The permit is available as a fillable-form WORD document (below) or you can request one from project contacts Kristen Berg or Cory Thomson (below)
In This Together Business Resource
WisDOT recognizes businesses located in work zones have special needs. While signing and other marketing/advertising during the construction is up to the business, WisDOT has business resources available through its "In This Together" website to assist businesses with planning for construction closures and to minimize the impact of construction. For more information, please visit WisDOT's In This Together website.
Project Construction Contact
An onsite construction office and project construction engineer will be available to answer any questions regarding project construction. Please contact the construction engineer with any construction questions or concerns. Contact information will be posted below following project let.
Onsite Project Construction Engineer 
Cory L Thomson
Transportation Engineer
Cell: 920-412-8755
ThomsonC@AyresAssociates.com
Onside Construction Office 
106 Wisconsin Avenue, Denmark, WI (Please call ahead for appointments)
WIS 96 Project Manager
Kristen Berg, P.E., Project Manager, WisDOT
WisDOT Northeast Region
944 Vanderperren Way
Green Bay, WI 54304
(920) 492-0139
Kristen.berg@dot.wi.gov​