NOTE: This project is complete as of Friday evening, October 16, 2020. All roadways are open. Website for reference purpose only. 
Project Location

WIS 76,Winnebago County, towns of Vinland and Clayton, from Greenhill Court (just north of I-41) to County JJ (Breezewood Lane)
Project Need
This project is needed to improve roadway deficiencies, safety and operational efficiency. The existing pavement is asphalt over original concrete and is in poor condition. Safety improvements and intersection reconstruction is needed  due to forecasted growth in traffic volumes.
Project Description
The roadway will be reconstructed with two, 12-foot wide travel lanes with five feet of paved shoulder width and 10-feet of total shoulder.
Other project improvements include:
Single lane roundabout at County GG intersection
Single lane roundabout at County G intersection
Multilane roundabout at County JJ intersection
Replacement of the existing two-way left-turn lane south of the County JJ intersection
Replacement of culvert pipes and the addition of storm sewer at the roundabouts
Curb and gutter and street lights will be installed at the roundabout intersections
A left-turn bypass lane will be constructed at the Vinland Center Road intersection
Project Schedule/Construction Staging
Construction will start April 6, 2020 and is expected to finished Oct. 16, 2020.
The project construction schedule will be staged to minimize impacts. There are six overall stages within the project. Stages 1 & 2 involve work at the County JJ and County GG intersections. Stages 3,4 & 6 involve work on mainline WIS 76. Stage 5 involves work at the County G intersection.
Traffic impacts: All roads open as of Oct. 16, 2020. 
WIS 76 will remain closed to traffic for the duration of the project.

Local and business access will be maintained throughout construction.
A drivable surface will be maintained by the contractor for emergency and service vehicles, and for residents to access driveways.

Detour: I-41 to US 45 to US 10
County JJ and County GG roundabouts will be constructed first.

County G roundabout will be constructed after those are completed.

Staged construction of the County JJ roundabout will allow cross traffic to be maintained at the County JJ intersection for the majority of construction.
Cross traffic will be maintained at the County GG and County G intersections except during restricted time windows when one of the two intersections will be closed for construction.
Temporary Business Signing and In This Together program for businesses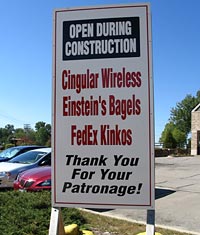 Temporary business signing may be placed during the detoured portion of the project by filling out a business signing permit. The permit is free of charge. Businesses are responsible for the cost of creating signage. All temporary business signing needs approval before placement to ensure it is in a safe location and does not pose a visual distraction or traffic hazard. Please keep the following items in mind regarding business signing:
Temporary business signing cannot be placed on traffic control devices or state signs. Business signs attached to these devices will be removed.
It is encouraged that businesses team up to have multiple businesses advertised on one sign structure versus several individual signs. This makes it easier for travelers to identify signs and find their destination.
Temporary Business Signing Permits are available as a fillable-form WORD download (below) or you can request one from project manager Kurt Peters by calling (920) 362-1157 or email kurt.peters@dot.wi.gov. Please email the completed permit as an attachment to Mr. Peters, or if you prefer, print and mail the completed form to: Kurt Peters, WisDOT NE Region, 944 Vanderperren Way, Green Bay, WI 54304. Instructions for filling out the permit are included in the form.
WisDOT recognizes businesses located in work zones have special needs. It's critical that customers have access to businesses and that they continue to visit them, regardless of any road work inconvenience. While signing and other marketing/advertising during the construction is up to the business, WisDOT has business resources available through its In This Together website to assist businesses with planning for construction closures and to minimize the impact of construction. On the In this Together website, businesses can find:
Specially designed workbook for businesses to succeed during a highway construction project, includes information on:

Planning ahead
Staying informed
Keeping customers informed
Tips for businesses

Case studies that demonstrate techniques that have been successfully used in communities throughout Wisconsin.
Promotional samples showing a variety of examples of how businesses have promoted their businesses during construction.
This program is offered to business and community leaders as an idea source as they plan for road construction in their area. Through communication and cooperation, businesses can not only survive, but thrive, when road construction comes to town. Please visit the In This Together website here.