Current long-term closures for construction on the WIS 441 Tri-County Expansion Project:
US 10/WIS 441 ramp to northbound I-41 closed until spring 2018
Westbound US 10/southbound WIS 441 on-ramp from Racine Road/County P closed until summer of 2018.
Eastbound US 10 on-ramp from County AP (Midway Road) closed until summer 2018.
Eastbound US 10 off-ramp to County AP (Midway Road) closed until summer 2019.
Westbound US 10 off-ramp to Midway Road closed until summer 2019.

Note: There is construction scheduled to the north and south of the WIS 441(Oneida Street) interchange taking place in 2017. These are separate projects and not a part of the WIS 441 Tri-County Expansion project at the interchange.
State highway project south of WIS 441/Oneida St. interchange: Resurfacing of 1.1 miles of US 10 (Oneida Street) from WIS 114 to County AP (Midway Road) in the cities of Menasha and Appleton and the towns of Menasha and Harrison. The project is scheduled to begin Monday, July 31 and finish by October 5, 2017. US 10 is detoured during construction.
City of Appleton utility project north of  WIS 441/Oneida St. interchange.
WIS 441 Tri-County Construction overall
Construction is just one step in the process. The preliminary engineering plans were completed in fall 2012. Final design was completed in 2013, followed by substantial construction activities along the corridor beginning in 2014. The WIS 441 Project construction timeline for individual interchanges, Roland Kampo Bridge, and I-41 and WIS 441 mainline are separated into different construction periods to provide the highest degree of safety for workers and least impactful travel delays for motorists.
No two consecutive interchanges will be closed at the same time
The new southern bridge will be built first, then the old bridge reconstructed
Nighttime closures of ramps will be most frequent to minimize travel impacts
At least one lane of travel will be provided on WIS 441 and I-41
The schedule for the entire 441 project is developed years in advance, but is contingent on biannual funding. To view the entire project timeline for all staging areas, click on the link or map below.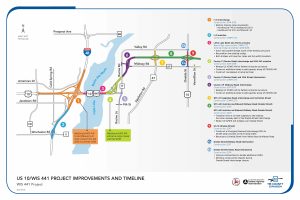 To view construction impacts and road closures for the current week, please see our weekly closure report.
Public outreach
Detailed staging-area maps, handouts, displays and PowerPoint presentations were presented to the public during public involvement meetings (PIM). To view any of the material presented at the PIMs, please visit the Meetings page and find the specific location you would like to see.