Note: All major construction on this project is complete and all roadways open. Website for reference purpose only.
WIS 42 Bridge and Culvert Construction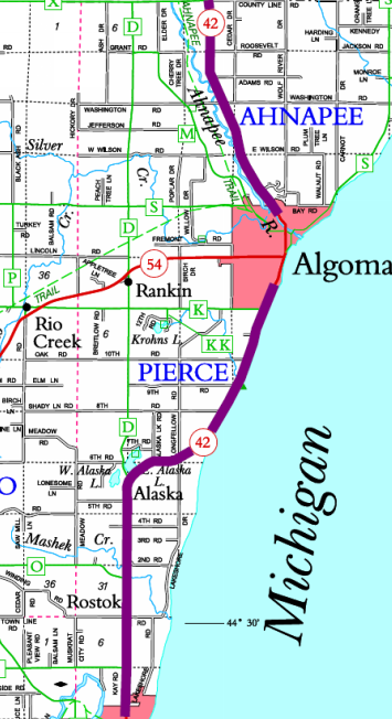 This 2020 calendar year project includes culvert replacements and bridge construction on a 12-mile segment in north Kewaunee County. During the project, portions of WIS 42 will be closed and detoured. At other times, flagging operations will occur. Access to properties will be provided at all times. Delays should be expected in the construction zones.
*NOTE: Resurfacing of these segments is not included in the 2020 project. A separate resurfacing is currently schedule for construction in 2022.
Project Location
WIS 42 between Duvall Street in the city of Kewaunee to Feld Street in the city of Algoma, and WIS 42 between Greenfield Avenue in the city of Algoma to the north county line (County X). No work will be conducted in the city of Algoma.
Project Schedule
2020 work will be constructed in stages beginning on June 29, 2020 and finishing by the end of October 2020.
Project Improvements
The 2020 project replaces culvert pipes throughout the project corridor at spot locations and constructs a new bridge over Three Mile Creek between 9th Road and 10th Road in 2020. A critical pipe replacement will take place first near Roosevelt Road during the first week of the project. Resurfacing will take place in 2022 between the north city of Kewaunee limits to the south limits of the city of Algoma (Feld Street), and between the north limits of the city of Algoma to the Door/Kewaunee County line.
Current Traffic Impacts
Work will be conducted in stages using highway closures, detours and flagging operations. Access to properties in the closure limits will be provided at all times.
Detour Routes and Staging
Multiple detour routes will be used for this project. State highway detours are provided for thru traffic and typically involve roads that long-haul trucks can pass on. Local vehicle traffic may find faster routes using the local system.
(North Detour) WIS 42 closure from Greenfield Avenue to the Door/Kewaunee County Line for culvert replacement (approx. 3 weeks) – Detour will use WIS 54, County D, and County X.
Stage 1: Duvall Street to County O (Complete)
Open to traffic with flagging during daytime work hours.
Stage 2/3: County O to County K (Complete)
Closed to through traffic
Stage 2 Detour: County O, County E, WIS 54 (Complete)
Stage 3 Detour: County D to County K (Complete)

Stage 3 detour will go in effect once Stage 2 work between County O and County D is completed.
Stage 4: Greenfield Avenue to North County Line (County X) (Complete)
Closed to through traffic (Complete)
Stage 4 Detour: WIS 54, County D, and County X
Project Construction Contact
For questions involving construction or construction-related issue during construction, please contact the onsite construction project leader.
WisDOT Project Contact
To speak with the WisDOT Project Manager, please call or email below contact.