WIS 23 Expansion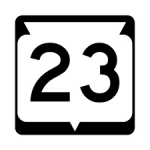 Overview
The project will reconstruct 19.1 miles of WIS 23 as a 4-lane, on-alignment divided highway from US 151 in Fond du Lac east to County P in Plymouth.  Numerous WIS 23 intersections will also be improved as part of the project. This website details current and planned construction in Sheboygan and Fond du Lac counties. Currently, only Sheboygan County grading is currently taking place. For historical information regarding the Limited Scope Supplemental Final Environmental Impact Statement (LS SFEIS) and Record of Decision (ROD), please see the documents on the Wisconsin Department of Transportation project design website at:
Schedule
WIS 23 expansion will be conducted in three segments starting in 2019 and concluding in 2022: Sheboygan County (2019-21) Fond du Lac County – Rural (2020-21), Fond du Lac – Urban (2021-22). The final construction activity includes resurfacing of the existing lanes of travel in 2022.
Traffic Impacts
In general, for all sections of the WIS 23 project, traffic will remain open in each direction on existing WIS 23 lanes during construction while the additional lanes are being built.
There may be short periods of time when WIS 23 traffic may be reduced to a single lane using flagging operations.
There may be short periods of time when WIS 23 traffic is detoured (a few nights or weekend days) for culvert replacements.
As each section of WIS 23 is completed, those sections will be opened to traffic on all 4 lanes.
Current construction: Sheboygan County Construction – Grading Operations (2019-2020)
WIS 23 4-lane, on-alignment expansion begins May of 2019 in Sheboygan County from County P to the west county line. Grading will take place in 2019/2020. Paving for the lane additions will take place in 2020/2021.
Location/limits: WIS 23 from the West Sheboygan/Fond du Lac County line to County P in the city of Plymouth.
Length of project in miles: 7.42 miles
Construction schedule: May 13, 2019 to mid-2020
Cost: $12.3 million
Description of work: This work is part of the WIS 23 4-lane, on-alignment expansion project scheduled for 2019-2022 in Sheboygan and Fond du Lac counties. Work will begin in Sheboygan County in 2019 and includes subgrade construction of the additional lanes in the Sheboygan County work zone, grading, drainage culverts and inlets, westbound structure over the Mullet River, westbound structure over the Ice Age Trail, wetland mitigation site, and other incidental items of work.
Traffic impacts: WIS 23 will remain open to one lane in each direction on the existing lanes at all times except for a single nighttime closure for construction of a culvert near Division Road.
Local Road traffic impacts: The following side road intersections with will be permanently close as part of the Sheboygan County 2019-2020 Construction Segment:

Julie Court (East)
Ridge Road (North)
Coary Lane
Twinkle Lane
Branch Road
For all other side roads in this section, the contractor is required to keep one lane open in each direction throughout construction.

Detour: A single nighttime WIS 23 closure and associated detour will be required when constructing a culvert located approximately 900 feet east of Division Road. The short term WIS 23 detour will follow County G, County C, and County T.
In-construction weekly updates: https://projects.511wi.gov/weeklyupdates-ne/
WIS 23 Project Benefits
WIS 23 improvements will provide the following benefits:
Provide a safe and dependable highway connection to and from regional communities while reducing conflicts between local and through traffic.
Improve the highway facility to meet current design standards for this Connector route in Wisconsin.
Complete the system link of US 41 to I-43 between the cities of Fond du Lac and Sheboygan.
Improve safety at intersections and farm crossings.
Increase corridor mobility and minimizing public and private access.
Preserve the corridor for future transportation use by coordinating local governmental land use plans. This will alleviate development pressures on WIS 23 and intersecting roads, preserving the corridor for future transportation use.
Maintain a rural highway-type facility while addressing the increased traffic needs of the expanding urban area.