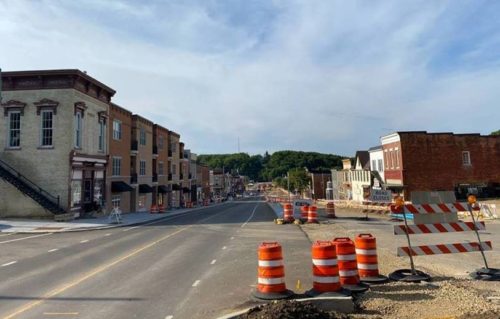 *La información del proyecto se puede traducir al español poniéndose en contacto con Josh Nelson – joshua.nelson@dot.wi.gov.
This project will resurface and reconstruct WIS 23 from County Shop Road to Minerva Street in the City of Darlington. Prior to construction, a crack and damage survey will be completed. The survey will focus on the residences and businesses located between Alice St and Cornelia St and will document the before and after conditions of the buildings. If you work or reside in this area, please note that surveyors may contact you to inspect the interior walls of your building. The roadway work is expected to begin late March 2021.
Improvements include:
Replace deteriorated roadway with new asphalt pavement
Improve geometry at several intersections for turning movements and access
Replace bridge deck over the Pecatonica River
Utility replacements: water main, sanitary sewer, storm sewer, street lighting
Upgrades to sidewalk, guardrail, driveways
Box culvert extension near the Minerva Street intersection
Retaining wall additions south of the river
North segment – late March 2021 thru November 2021: Reconstruct WIS 23 from East River Street to Minerva Street, including the bridge deck replacement
South segment – April 2022 thru October 2022: Reconstruct WIS 23 from County Shop Road to East River Street
View the WIS 23 project staging plans.
Click on the links below to view project exhibits.
What can you do to prepare for construction? Visit the In This Together website.