Project Location
The project is located on WIS 125, College Avenue, from I-41 to Bluemound Drive, in the town of Grand Chute in Outagamie County.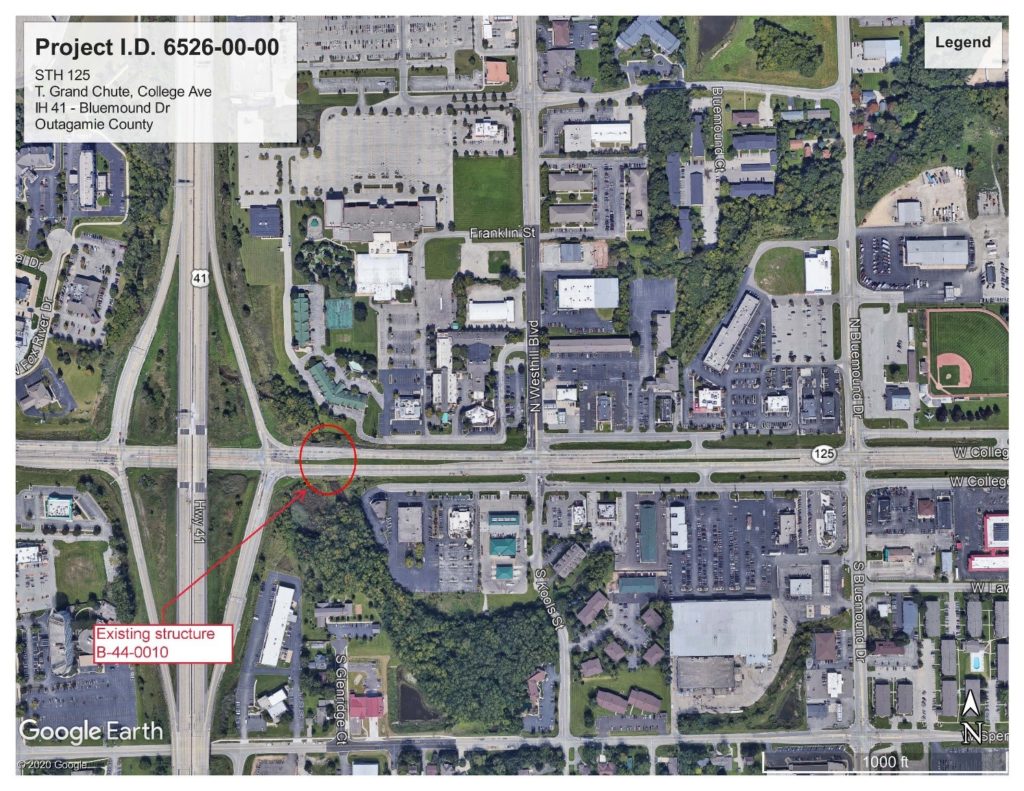 Project Overview
The Wisconsin Department of Transportation (WisDOT) developed a Design-Build project that consists of a structure replacement on WIS 125 over Mud Creek just east of the I-41 northbound ramps. The existing structure was originally constructed in 1953, with its last rehabilitation occurring in 1970. The structure has significant cracking in the ceiling and walls and its walls have begun to bow causing safety concerns.. The current proposal will replace the existing box culvert with a new bridge structure. ​
Project Schedule
Public/Business Involvement Outreach – Spring/Summer 2021
Environmental document – December 2021
Right-of-way plat – December 2021
Real estate acquisition – Summer 2022
Local officials meeting/Public involvement meeting – February 2023
Tree clearing and netting on bridge – February 2023
Complete design study report – April 2023
Final roadway plans – July 2023
Construction project meeting – Summer 2023
Traffic impacts
WIS 125 is proposed to be closed during construction from northbound I-41, College Avenue exit and entrance ramps to North Westhill Boulevard starting in August 2023. Construction is anticipated to be completed by late October 2023. A detour and alternate route will be posted for this project and will be signed as follows:
Alternate route – I-41 northbound traffic coming from south of Appleton will be directed to WIS 441 northbound to WIS 47 northbound with the alternate route ending at the 47/125 intersection in downtown Appleton
Detour/truck route– The detour will utilize County A (Lynndale Drive) to County OO (Northland Avenue) to I-41, back to WIS 125 (College Ave)
Local road improvements are anticipated on West Spencer Street to accommodate traffic that will likely divert around the work zone using local roads that are not identified as a detour route. Temporary signals will be installed at the West Spencer Street and Nicolet Road intersection. Turn lane improvements will be provided at the Kools Street and West Spencer Street intersection.
Public Involvement
A public involvement meeting was held in February 2023.  The objective of the meeting was to provide an update about the proposed improvements, construction schedule, and traffic impacts.
Temporary Business Signing
Temporary business signing may be placed during the detoured portion of the project by filling out a WisDOT business signing permit. All temporary business signing needs approval via the permit before placement to ensure it is in a safe location and does not pose a visual distraction or traffic hazard. The temporary business signing permit is free. Costs associated with creating the temporary sign are the responsibility of the business.
Please keep the following items in mind regarding business signing:
​Temporary business signing cannot be placed on traffic control devices or state signs. Business signs attached to these devices will be removed.
It is encouraged that businesses team up to have multiple businesses advertised on one sign structure versus several individual signs. This makes it easier for travelers to identify signs and find their destination.
Temporary Business Sign permits are available as a fillable-form WORD download (below) or you can request one from WisDOT Project Manager Jesse Hansen, P.E. at (920) 492-5630 or email at Jesse.Hansen@dot.wi.gov.
Please email the completed permit to Jesse Hansen, or if you prefer to mail the completed form, please address to: Jesse Hansen, WisDOT NE Region, 944 Vanderperren Way, Green Bay, WI 54304.
In This Together Business Resource
WisDOT recognizes businesses located in work zones have special needs. While signing and other marketing/advertising during the construction is up to the business, WisDOT has business resources available through its "In This Together" website to assist businesses with planning for construction closures and to minimize the impact of construction. For more information, please visit WisDOT's In This Together website at https://wisconsindot.gov/Together.
Project contact
​Jesse Hansen, P.E.
Project Manager
WisDOT – Northeast Region
944 Vanderperren Way
Green Bay, WI 54304-5344
Phone: (920) 492-5630
jesse.hansen@dot.wi.gov
Melissa Kok
Regional Communications Manager
WisDOT – Northeast Region
944 Vanderperren Way
Green Bay, WI 54304-5344
Phone: ​(920) 492-5743
Melissa2.Kok@dot.wi.gov