Welcome to the construction website for the WIS 116 (Main St.) reconstruction and Wolf River Bridge replacement in downtown Winneconne, Wisconsin. The need for a new Wolf River Bridge is due primarily to its regional importance and deficiencies with the existing bridge. The existing pavement and underground utilities along Main St. are deteriorating and also in need of replacement.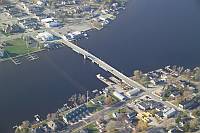 Project location
WIS 116 (Main St.) from just west of 9th St. to just east of 13th Ave., in Winneconne, Winnebago County.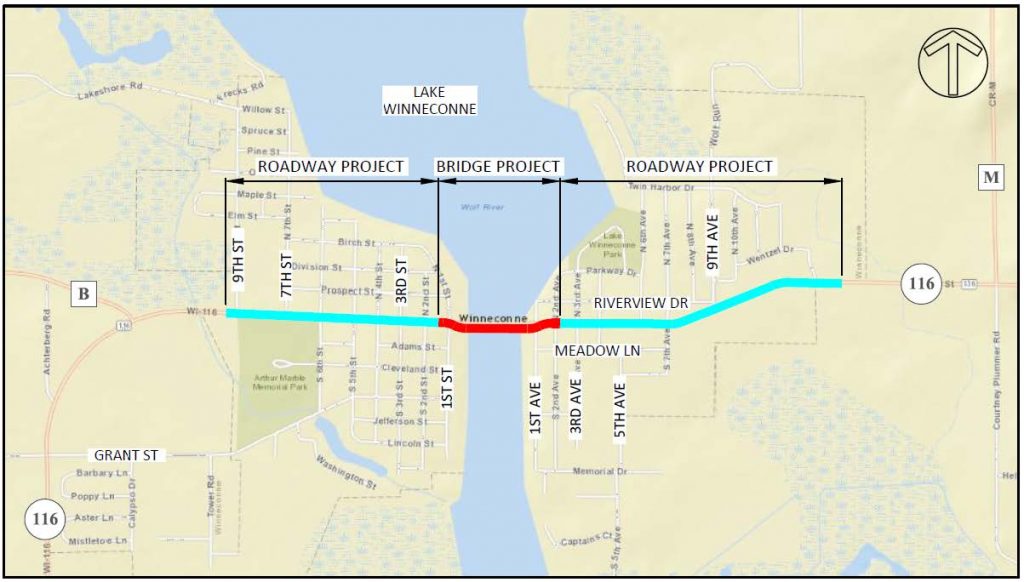 Project construction  
Existing bridge over the Wolf River in downtown Winneconne to be replaced with a fixed span bridge just south of the existing alignment.
Reconstruction of the bridge approaches to extend roughly to 2nd St. on the west and to 2nd Ave. on the east.
New fishing platforms to be constructed roughly in the same location as the existing roadway bridge extending from both shores with a gap over the main navigation channel.
Remainder of Main St. within the village of Winneconne (2nd St. to 9th St. on the west and 2nd Ave. to 13th Ave. on the east) to be reconstructed as part of a separate project.
New storm sewer is included and utilities under the existing roadway will be replaced.
To see detailed construction displays and exhibits, visit our resources page.
Project design information
For more information on the past design and environmental study for the WIS 116 and Wolf River Bridge project, please see our design website at http://wisconsindot.gov/Pages/projects/by-region/ne/wis116/default.aspx
Project schedule
Bridge project construction is scheduled to start September 11, 2017, followed by Main St. reconstruction, and then the new fishing platforms in the final year of the project (late 2019)

To see schedule and traffic impact information, visit our schedule page.
Project benefits
Safety
The bridge replacement will address the deficiencies of the existing Wolf River Bridge. Changes in road design should help improve safety within the remainder of the village.
Improved traffic flow/boat passage
The fixed bridge design will accommodate boat passage without requiring opening and closing of a bascule span.
The existing WIS 116 bridge is opened much more frequently compared with other bascule bridges in the area. This adversely impacts traffic flow through the downtown area and also increases potential for delays in emergency response times.
Improved multi-modal opportunities
Both the bridge and roadway projects will provide better accommodations for bicycle and pedestrian travel.
Enhanced recreational access
New fishing platforms will provide enhanced opportunities for fishing in downtown Winneconne and also benefit the local economy. A new bridge will provide safer accommodations for snowmobile crossings during winter months.
Reduced costs
A fixed bridge is significantly cheaper than a bascule bridge, both in initial construction cost and long-term maintenance cost.
Project construction contacts
If you have any questions regarding the WIS 116 bridge and improvement project, please contact any of the Wisconsin Department of Transportation (WisDOT) employees below.
Bill Bertrand, WisDOT Project Manager
(920) 360-3124
william.bertrand@dot.wi.gov
Charles Karow, WisDOT Project Supervisor
(920) 492-5997
charles.karow@dot.wi.gov
Mark Kantola, WisDOT Northeast Region Communications Manager
(920) 492-4153
mark.kantola@dot.wi.gov
Wisconsin Department of Transportation
Northeast Region
944 Vanderperren Way
Green Bay, WI 54304
Phone: (920) 492-5643
Fax: (920) 492-5640
TTY: 711
ner.dtsd@dot.wi.gov