THIS PROJECT IS  COMPLETE. WEBSITE IS FOR REFERENCE ONLY.
Fishing platforms open for public use on Friday, Sept. 20.
Welcome to the construction website for the WIS 116 (Main St.) reconstruction and Wolf River Bridge replacement in downtown Winneconne, Wisconsin. Project details, scope, schedule, traffic impacts, detour routes, construction photos, and temporary business signing and information for businesses/property owners in the work zone can be found on this project website.
Note: This website is for WIS 116 construction details only. For information regarding past project design, need and purpose, public involvement and the environmental study, please see the WIS 116 Design/Study website at http://wisconsindot.gov/Pages/projects/by-region/ne/wis116/default.aspx
2018 construction overview
Work continues in 2018 on the Wolf River Bridge replacement project. Local traffic across the Wolf River Bridge will be maintained at all times during construction, with the new bridge open for vehicle use by fall of 2018.
WIS 116 (Main Street) urban reconstruction begins in March/April this year.  WIS 116 will be closed and detoured in stages. Local access along WIS 116 from the east end of the village to 13th Avenue will be maintained so that local traffic can access the local street system. Trucks may also use this route.

For detailed staging schedules, traffic impacts and detours, please see the WIS 116 Construction Schedule/Traffic Impacts webpage
Business owners can place temporary signing during construction to direct traffic on alternate streets to their business. WisDOT requires a free permit (see below) for business signing.
Project location
WIS 116 (Main St.) from just west of 9th St. to just east of 13th Ave., in Winneconne, Winnebago County.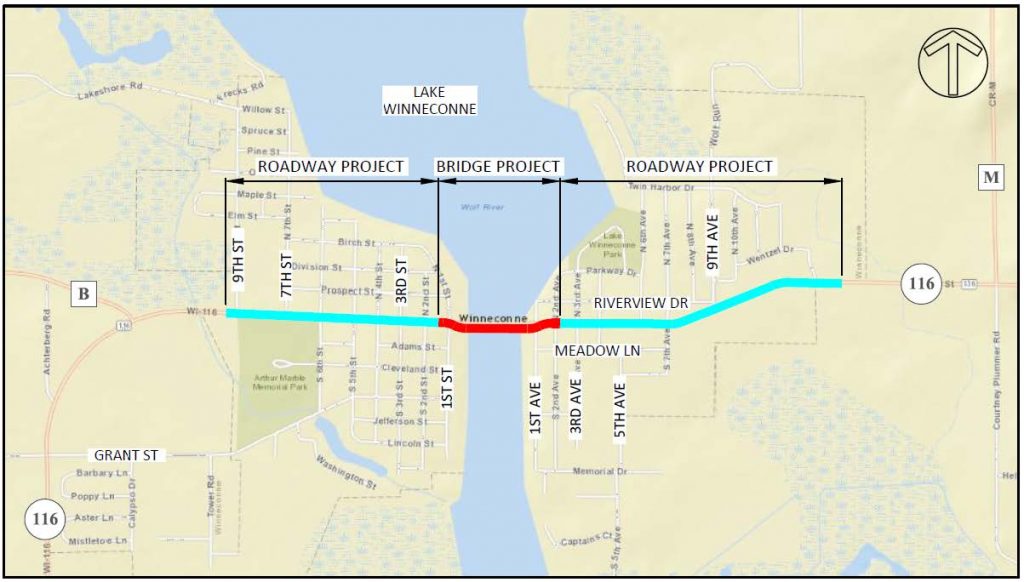 Project construction  
Existing bridge over the Wolf River in downtown Winneconne to be replaced with a fixed span bridge just south of the existing alignment. Bridge construction will take place in five stages, with local traffic across the bridge being maintained at all times.
Reconstruction of the bridge approaches to extend roughly to 2nd St. on the west and to 2nd Ave. on the east.
New fishing platforms to be constructed roughly in the same location as the existing roadway bridge extending from both shores with a gap over the main navigation channel.
Remainder of Main St. within the village of Winneconne (2nd St. to 9th St. on the west and 2nd Ave. to 13th Ave. on the east) to be reconstructed as part of a separate project.
New storm sewer and utilities under the existing roadway will be replaced.
To see detailed bridge and roadway construction displays and exhibits, visit our resources page
Project schedule
Bridge replacement construction began September 11, 2017 and continues in 2018.

New bridge opens for traffic in fall of 2018.

Main St. reconstruction begins in March/April 2018

New fishing platforms built in the final year of the project (late 2019)

To see schedule and traffic impact information, visit our schedule page
Business signing during detour
Temporary business signing may be placed during the detoured portion of the project by filling out a business signing permit, free of charge. All temporary business signing needs approval before placement to ensure it is in a safe location and does not pose a visual distraction or traffic hazard.
Please keep the following items in mind regarding business signing:
Temporary business signing cannot be placed on traffic control devices or state signs. Business signs attached to these devices will be removed.
It is encouraged that businesses team up to have multiple businesses advertised on one sign structure versus several individual signs. This makes it easier for travelers to identify signs and find their destination.
Temporary Business Sign permits are available as a fillable-form WORD download (above) or you can request one from construction project manager Bill Bertrand by calling (920) 360-3124 or email William.bertrand@dot.wi.gov.
Please email the completed permit as an attachment to Bill, or if you prefer to mail the completed form, please address to: Bill Bertrand, WisDOT NE Region, 944 Vanderperren Way, Green Bay, WI 54304.
In This Together program for businesses
WisDOT recognizes businesses located in work zones have special needs. It's critical that customers have access to businesses and that they continue to visit them, regardless of any road work inconvenience. While signing and other marketing/advertising during the construction is up to the business, WisDOT has business resources available through its "In This Together" website to assist businesses with planning for construction closures and to minimize the impact of construction. On the "In this Together" website, businesses can find:
Specially designed workbook for businesses to succeed during a highway construction project, includes information on:

Planning ahead
Staying informed
Keeping customers informed
Tips for businesses

Case studies that demonstrate techniques that have been successfully used in communities throughout Wisconsin.
Promotional samples showing a variety of examples of how businesses have promoted their businesses during construction.
This program is offered to business and community leaders as an idea source as they plan for road construction in their area. Through communication and cooperation, businesses can not only survive, but thrive, when road construction comes to town. Please visit the In This Together website here.
Bridge on-site construction contacts 
Wolf River Bridge Construction on-site engineer
Wolf River Bridge construction on-site field office
27 South 1st Street, Winneconne
WIS 116/Main St. on-site construction contacts 
Main Street Reconstruction on-site engineer
Scott Hintz, 920-572-7420
Main Street Reconstruction on-site field office location
933 East Main Street, Winneconne
WisDOT Northeast Region Project contacts
If you have any questions or concerns regarding the bridge replacement or Main Street improvement project, please contact any of the WisDOT employees below.
Bill Bertrand, WisDOT Project Manager
(920) 360-3124
william.bertrand@dot.wi.gov
Charles Karow, WisDOT Project Supervisor
(920) 492-5997
charles.karow@dot.wi.gov
Mark Kantola, Regional Communications Manager
(920) 492-4153
mark.kantola@dot.wi.gov
Wisconsin Department of Transportation
Northeast Region
944 Vanderperren Way
Green Bay, WI 54304
Phone: (920) 492-5643
Fax: (920) 492-5640
TTY: 711
ner.dtsd@dot.wi.gov