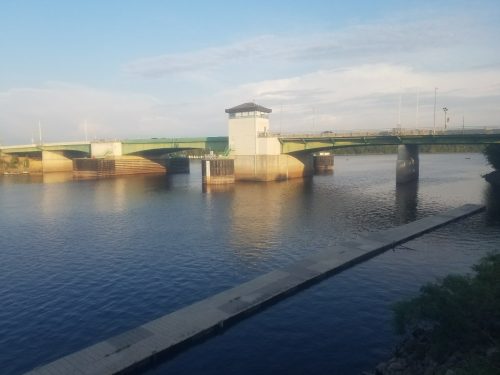 Project ID: 1530-01-75
Project Cost: $1 million
Impacted Locations: US 10, Hastings, Prescott, Prescott Lift Bridge
This project includes the rehabilitation of the Prescott Lift Bridge, an essential crossing across the St. Croix River. This project is needed to prolong the life of the existing structure and rehabilitate its features to increase its utility and safety.
The structure utilizes large counterweights in order to lift the steel bridge. These weights are made of concrete and are breaking up due to corrosion from salt water. The project will involve the repair of concrete counterweights which allow for the bridge to be lifted, the installment of a new rebar, and the replacement of surface concrete adjacent to the bridge. The area housing the concrete counterweights will also be repaired and covered with a polymer coating. The surface concrete near the steel bridge deck will also be coated with polymer to extend its useful life.