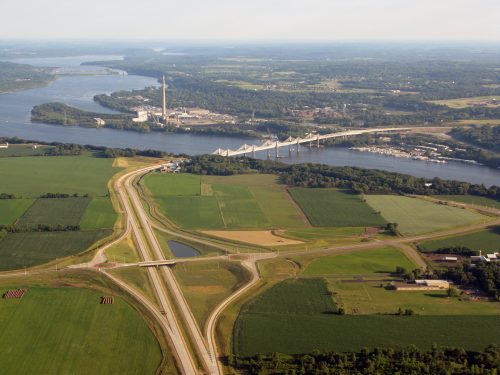 St. Croix Crossing – Wisconsin Loop Trail Project
Location
St. Joseph and Houlton, St. Croix County
July 4th Fireworks Information
Parking will be available in both Wisconsin and Minnesota. Click here to see a map of parking options. 
Overview
The St. Croix Crossing Bike/Pedestrian Loop Trail (Loop Trail) is part of the environmental mitigation package for the St. Croix Crossing project. This final phase of the project will include construction of the trail from the historic Stillwater Lift Bridge up old WIS 64, through portions of Houlton, past the Houlton Elementary School, and continue along new WIS 64 to the new river bridge. The Loop Trail is paved from the pedestrian underpass to the new river bridge, but construction activities in that segment of the Loop Trail are not yet complete. The park and ride and connecting trail are paved and ready for use. The project includes:
Construction of two trailhead parking areas; one will be located at the top of Houlton Hill and the second will be located across the street from Houlton Elementary School (main trailhead).
Addition of amenities at the main trailhead site, including a restroom building with flush toilets, drinking fountains, picnic shelter, picnic tables, benches and interpretive panels.
Installation of rain gardens and other landscaping features
Construction of a park and ride lot
Pedestrian and bike path
Sign up for project updates here.
The Annual St. Croix Crossing Project Summary Report: March 1, 2017 to February 28, 2018 is complete. This report summarizes major construction and mitigation accomplishments and upcoming project activities for the St. Croix Crossing. Click Here for Annual Report.
For more St. Croix Crossing project information: