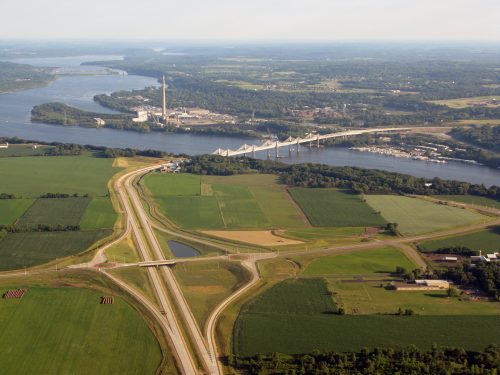 St. Croix Crossing – Wisconsin Loop Trail Project
Location
St. Joseph and Houlton, St. Croix County
Overview
The St. Croix Crossing Bike/Pedestrian Loop Trail (Loop Trail) is part of the environmental mitigation package for the St. Croix Crossing project. This final phase of the project will include construction of the trail from the historic Stillwater Lift Bridge up old WIS 64, through portions of Houlton, past the Houlton Elementary School, and continue along new WIS 64 to the new river bridge. 
Construction on the Wisconsin Loop Trail Project for the 2018 season has concluded with a number of major accomplishments. Crews completed the loop trail from the pedestrian tunnel to the lift bridge through Houlton, built three parking lots and constructed two trailheads.
Work on the Loop Trail will resume in the spring of 2019. This work will consist of completing pavement marking and signing on the old WIS 64 hill, the installation of pedestrian railing, and the installation of a new "Welcome to Wisconsin" sign on eastbound WIS 64.
Although the trail and the trailheads have been available for use this year, the trails and trailheads will be closed this winter. The pedestrian tunnel is also closed for the winter and blocked off by safety fencing. Pedestrians will still be able to access the trail leading from the park and ride lot to the St. Croix Crossing, as well as the park and ride lot itself. However, the Loop Trail from the Hilltop Trailhead down to the lift bridge is closed and blocked off with safety fencing and barricades. This is a necessary precaution to increase workzone safety. There are a large number of construction vehicles, uneven terrain, excavation, drop-offs and other unsafe conditions that pose a risk to anyone who does not belong in the work area.
The project includes:
Construction of two trailhead parking areas; one will be located at the top of Houlton Hill and the second will be located across the street from Houlton Elementary School (main trailhead).
Addition of amenities at the main trailhead site, including a restroom building with flush toilets, drinking fountains, picnic shelter, picnic tables, benches and interpretive panels.
Installation of rain gardens and other landscaping features
Construction of a park and ride lot
Pedestrian and bike path
Sign up for project updates here.
Two Annual St. Croix Crossing Project Summary Reports have been completed. These reports summarize major construction and mitigation accomplishments, as well as upcoming project activities for the St. Croix Crossing. Click Here for the 2018 Annual Report. Click Here for the 2019 Annual Report.
For more St. Croix Crossing project information: