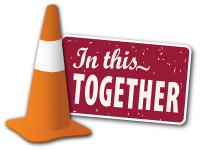 The "In This Together" program is sponsored by the Wisconsin Department of Transportation (WisDOT) and targets businesses facing road construction in their community. The program's goal is to help businesses maintain daily operations while construction is underway.
WisDOT recognizes that businesses located in or near construction zones have special needs. It is critical that customers, employees and delivery vehicles have access to businesses and places of work, regardless of any roadwork inconvenience.
This program supports economic development in a number of ways:
Encourages businesses to become proactive in attracting business during construction and working together with WisDOT;
Provides owners with positive strategies and successful techniques to draw in customers;
Reduces the fears and frustrations of business owners associated with construction disruptions, delays and detours; and
Demonstrates that WisDOT wants to help businesses succeed and promote economic development.
PROMOTE YOUR BUSINESS DURING CONSTRUCTION
Is your business located within the current Belknap Street work zone? If so, help your business not only survive, but thrive, during construction. Promote your business by uploading your business information to our website. (Please allow 1-3 business days for information to be added.)
Please continue to patronize all businesses in the work zone!