This website details construction scope, traffic impacts, schedule and business information for the 2021 WIS 67 urban reconstruction within the village of Campbellsport.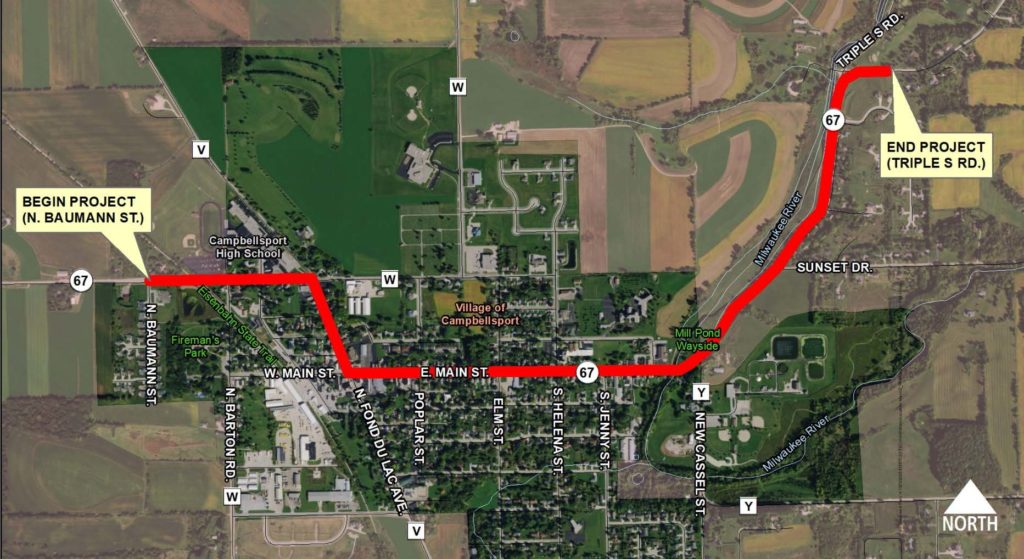 Update: Final concrete work, topsoil placement, restoration and highway opening/detour removal will be complete by December 2021. Minor landscaping and tree planting may take place in spring of 2022.
Project Location
WIS 67 from Baumann Street in the village of Campbellsport to Triple S Road in the town of Auburn.
Construction public handout
WisDOT has created a public handout for the this project. Please feel free to download, print and share with anyone who does not have access to this website.
Description of work: The project will reconstruct 2.2 miles of WIS 67 through Campbellsport. There will be no changes to alignment. Work includes:
Full reconstruction of highway with new base and pavement
Install new curb and gutter, storm/sanitary sewer, water main
Replace sidewalk, urban shoulders, parking lanes
Minor changes to the highway profile between Baumann Street and County Y
Replace the deck on the bridge over the Milwaukee River with minor improvements to the abutments
View construction improvement display map (includes sidewalk replacement areas, vehicle lanes, on-street parking, right of way, property lines)
Construction schedule
The contractor started construction mid-March of 2021 and will finish in December 2021 (weather dependent).

Some minor landscaping/tree planting will occur in spring of 2022 with minimal impacts to traffic.
Public construction update meeting
No further meetings. The contractor held a virtual public construction update meeting for business and property owners on Tuesday, March 9, 2021.
Traffic impacts
WIS 67 will be CLOSED to through traffic during construction (opening December 2021)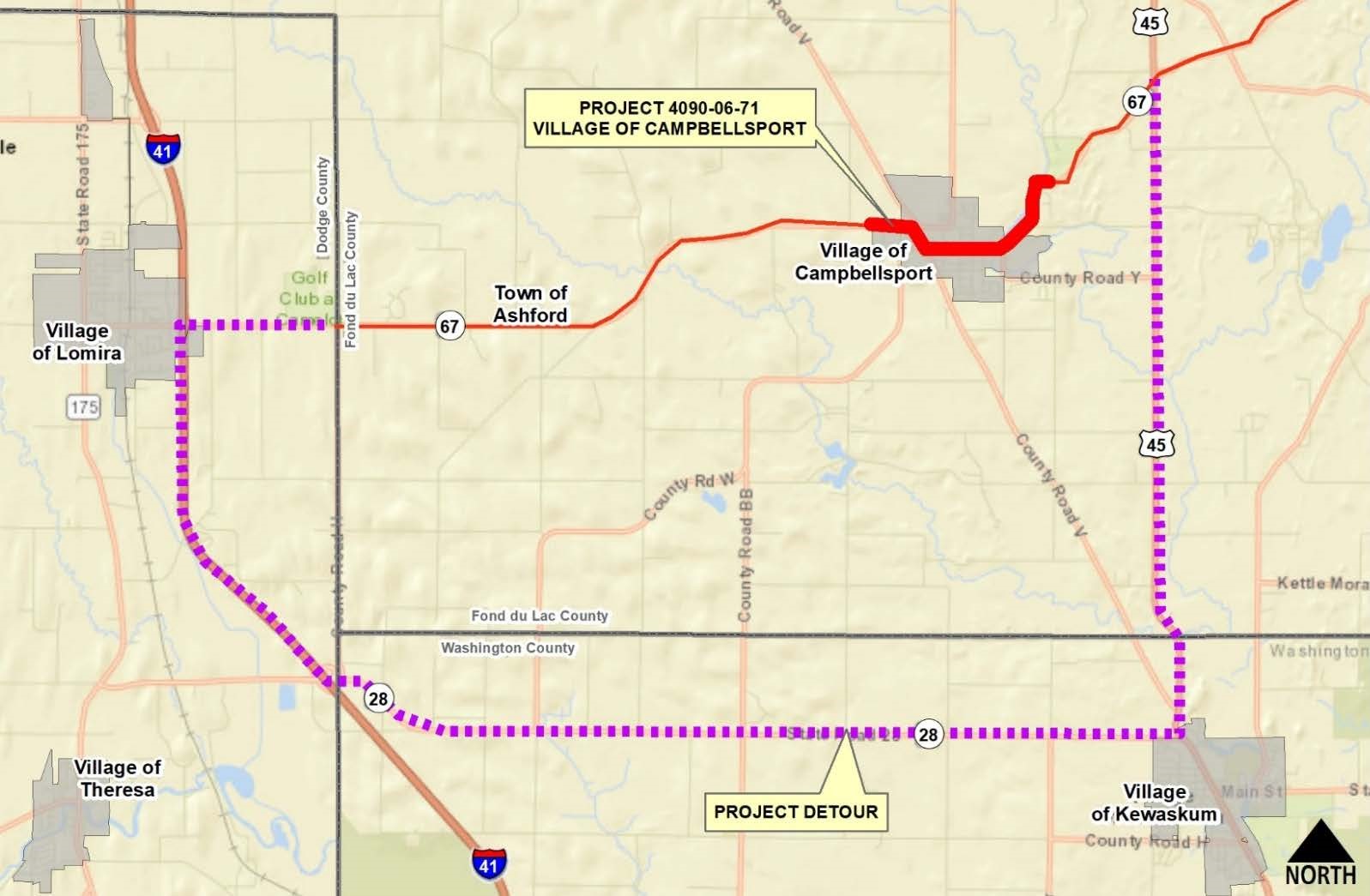 Local access to businesses and properties in the the work zone will be maintained.

Reconstruction of driveways and trenching for utilities may limit access to properties adjacent to WIS 67 for a very short period of time (less than a day). A member of the construction staff will notify property owners of driveway work prior to any access limitations.
Detour
A signed detour will direct motorists to use US 45, WIS 28 and I-41.
Temporary Business Signing
Temporary business signing may be placed during the detoured portion of the project by filling out a WisDOT business signing permit. All temporary business signing needs approval via the permit before placement to ensure it is in a safe location and does not pose a visual distraction or traffic hazard. The temporary business signing permit is free. Costs associated with creating the temporary sign are the responsibility of the business.
Please keep the following items in mind regarding business signing:
Temporary business signing cannot be placed on traffic control devices or state signs. Business signs attached to these devices will be removed.
It is encouraged that businesses team up to have multiple businesses advertised on one sign structure versus several individual signs. This makes it easier for travelers to identify signs and find their destination.
Temporary Business Sign permits are available as a fillable-form WORD download (below) or you can request one from project engineer Jeff Spaeth at (920) 579-0467 or email j.spaeth@gremmerassociates.com.
Please email the completed permit to Jeff, or if you prefer to mail the completed form, please address to: Jeff Spaeth, 93 South Pioneer Road, Suite 300, Fond du Lac, WI 54935
In This Together Business Resource
WisDOT recognizes businesses located in work zones have special needs. While signing and other marketing/advertising during the construction is up to the business, WisDOT has business resources available through its "In This Together" website to assist businesses with planning for construction closures and to minimize the impact of construction. For more information, please visit WisDOT's In This Together website at https://wisconsindot.gov/Together
Project construction contact
An onsite construction project leader can answer any construction related questions. If you have design or questions related to project development, please contact the WisDOT project manager.
Onsite construction project manager
WisDOT Project Manager
This is the 4th and final improvement project on WIS 67 encompassing the entire length of the highway in Fond du lac County. Prior work includes:
Construction of the Virgin Creek box culvert just east of the intersection with US 45 in 2018.
Resurfacing of WIS 67 from the west county line to Campbellsport in 2019.
Resurfacing of WIS 67 from Campbellsport to the east county line in 2020.
View all WIS 67 projects in map (pdf)