PROJECT COMPLETE AS OF FRIDAY, OCTOBER 15. WEBSITE FOR REFERENCE ONLY. 
This website details construction scope, schedule and traffic impacts on WIS 42 south of the city of Kewaunee.
Note: A separate WIS 42 resurfacing project will take place north of Kewaunee began on August 23, 2021. A brief of that project is included at the end of this webpage.
Project location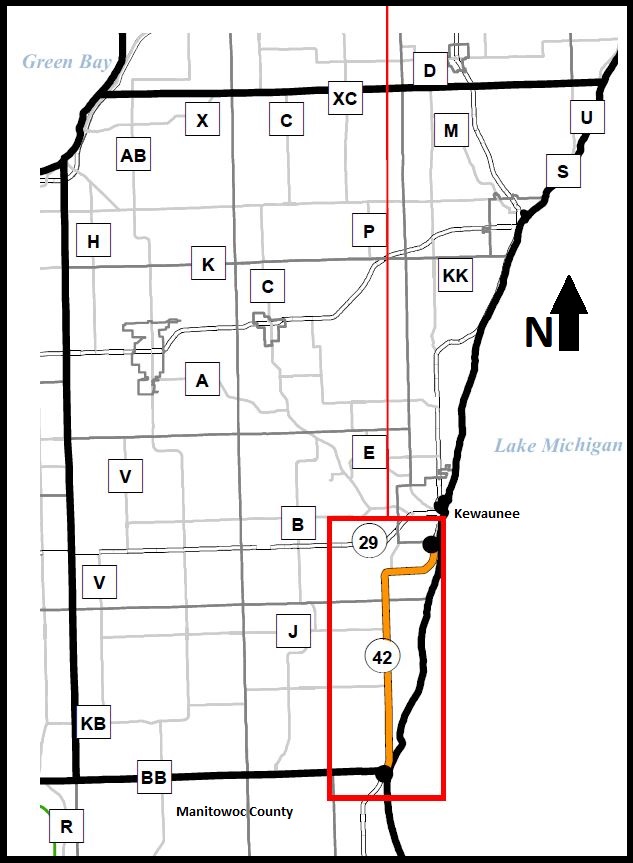 WIS 42 from the south Kewaunee/Manitowoc county Line to Baumeister Drive in the city of Kewaunee (Baumeister Drive) through the towns of Carlton and West Kewaunee.
Construction schedule
June 1, 2021 to October 15, 2021
Description of work (all work complete(
The project will improve 9.9 miles of WIS 42. Construction elements include:
Mill and resurface the existing asphalt pavement
Replace deteriorating box culvert 300′ south of Lakeview Drive
Replace deteriorating box culvert ¾-mile north of County J
Repair/replace various culvert pipes in work zone
Install rumble strips
Storm sewer, beamguard and pavement marking
Minor grading and shoulder widening
View in-construction weekly updates at  https://projects.511wi.gov/weeklyupdates-ne/
Traffic impacts (all traffic impacts complete)
 WIS 42 will be CLOSED AND DETOURED to thru traffic starting June 1, 2021 to September 28, 2021. ROAD OPEN/DETOUR REMOVED.

 Access will be maintained to businesses and properties in the work zone.

Hard closure: WIS 42 closed from 0.7 miles north of County J to 0.25 miles south of Townline Road from June 1 until June 30 for box culvert work. (complete)
Hard closure: WIS 42 closed from 0.5 miles north of Nuclear Road to Lakeview Drive from June 21 until August 27 for box culvert work.
Flagging operations will be used for work conducted not under full closure.
Detour
WIS 42 will be detoured onto County BB, County AB, and WIS 29. (NONE/ROAD OPEN)
View detour route in map
Temporary business signing
Temporary business signing may be placed during the detoured portion of the project by filling out a WisDOT business signing permit. All temporary business signing needs approval via the permit before placement to ensure it is in a safe location and does not pose a visual distraction or traffic hazard. The temporary business signing permit is free. Costs associated with creating the temporary sign are the responsibility of the business. Please keep the following items in mind regarding business signing:
Temporary business signing cannot be placed on traffic control devices or state signs. Business signs attached to these devices will be removed.
It is encouraged that businesses team up to have multiple businesses advertised on one sign structure versus several individual signs. This makes it easier for travelers to identify signs and find their destination.
The permit is available as a fillable-form WORD document (below) or you can request one from John Spielmacher, WIS 42 project construction leader, at (920)360-6419. Please email the completed form to John at john.spielmacher@dot.wi.gov
In This Together Business Resource
WisDOT recognizes businesses located in work zones have special needs. While signing and other marketing/advertising during the construction is up to the business, WisDOT has business resources available through its "In This Together" website to assist businesses with planning for construction closures and to minimize the impact of construction. For more information, please visit WisDOT's In This Together website.
Project construction contact
Please contact the onsite construction project leader for construction-related inquiries or questions.
Onsite construction project manager: John Spielmacher, WisDOT, (920)360-6419 or john.spielmacher@dot.wi.gov
Onsite construction office location: 1630 Milwaukee Street, Kewaunee.
Project design contact
If you have project development or design questions, please contact the WisDOT project manager.
Paul Brauer, P.E.
WisDOT Project Manager
Phone: (920) 366-1097
Email: Paul.brauer@dot.wi.gov
Other project to the north of above project
WIS 42 resurfacing project north of city of Kewaunee
THIS PROJECT COMPLETE AS OF OCTOBER 14, 2021
This improvement project was advanced to the 2021 construction year with federal COVID Relief Funding. WIS 42 will remain open during construction.
Location: WIS 42 from Duvall Street in the city of Kewaunee to the North Kewaunee County Line

No work will take place in the city of Algoma between Feld Street and West Greenfield Avenue.

Schedule: August 23, 2021 to mid-October (40 working days contract)
Description of work: Milling and resurfacing of the existing asphaltic lanes and shoulders, adding gravel to existing shoulders, centerline and shoulder rumble strips, beam guard upgrades and associated minor grading, and pavement marking.
Traffic impacts: WIS 42 will remain open to traffic throughout construction with flagging operations as necessary.
In-construction weekly updates: https://projects.511wi.gov/weeklyupdates-ne/