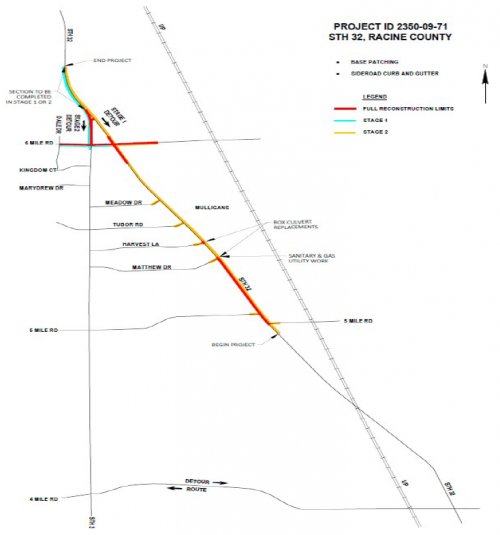 Location
WIS 32 – from 5 Mile Road to the intersection of WIS 31/WIS 32, Racine County
Schedule
Early May 2019 – Spring 2020
Note: The roadway is now

open

. Crews will return in spring 2020 to conduct inspections and make minor improvements.
Improvements
Two mile resurfacing of WIS 32
Roadway widening along 6 Mile Road between WIS 31 and WIS 32
Intersection improvements at 5 Mile Road, 6 Mile Road and WIS 31
New traffic signal installed at the intersection of WIS 31 and WIS 32
Two new box culverts installed near Matthew Drive and Harvest Lane
The majority of the project is resurfacing, with short sections of needed reconstruction. Areas of pavement reconstruction are needed to address safety and operational issues at the intersection of 5 Mile Road and along 6 Mile Road. Additional reconstruction segments are required in the areas of the box culvert replacements.
The highway reconstruction sections will remove and replace the existing pavement. The addition of new curb and gutter and a storm sewer system will improve drainage. The material below the pavement will also be improved.
Traffic signal work will include replacement of the existing signal at the intersection of WIS 32 and 6 Mile Road. To optimize safety and traffic flow, a new traffic signal will be added at the intersection of WIS 32 and WIS 31.
The pavement resurface section will include milling the existing surface, and an asphalt overlay. Work in these areas also include asphalt base patching, side-road realignment for improved safety, along with curb and gutter replacement at five intersections.
Two existing box culverts, located at Matthew Drive and Harvest Lane, will be replaced. The aging culverts with be replaced with new 5'x10'x70' concrete structures. Culvert replacement will require construction of a diversion channel to redirect the waterway during construction of the culverts. Additional utility work around Matthew Lane will include the installation of upgraded sanitary sewer and a gas service line.
Access During Construction
Businesses along the project can coordinate with the contractor and WisDOT for placement of direction signing when access is limited during construction.
To minimize traffic impacts, we will construct the project in stages. Short detours will be posted for non-local traffic. Access for local traffic to and from residences and businesses within the construction zone will remain open at all times.