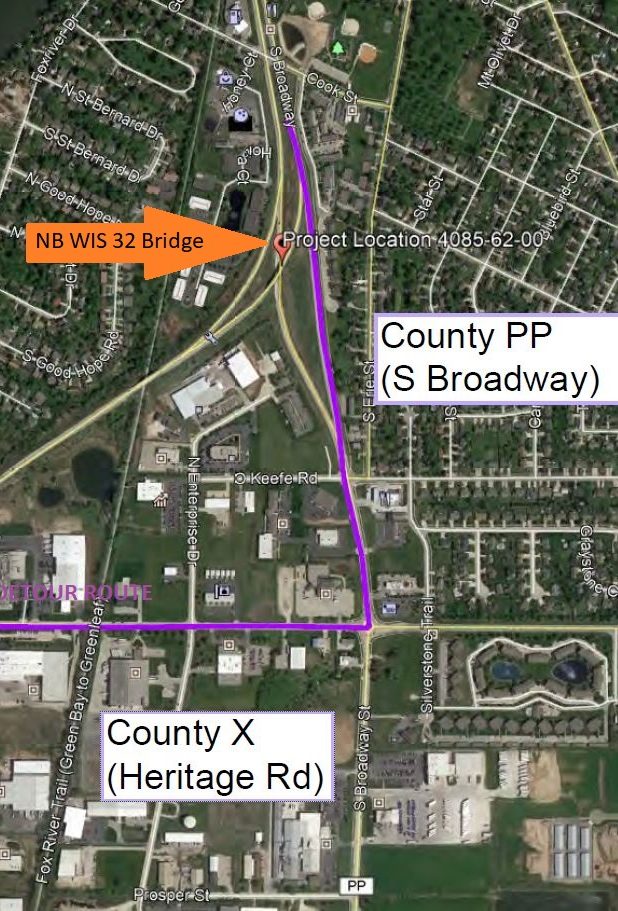 This webpage details 2023 construction scope, schedule and traffic information for a bridge replacement project on WIS 32 in Brown County over County Road PP.
Location
Northbound WIS 32/57 bridge over County PP in the city of De Pere, Brown County.
Project benefits
The project will address structural problems related to cracking and spalling, safety issues with hazardous side slopes, and critical scour. The bridge needs to be replaced to avoid further deterioration and significant safety concerns. The bridge was built in the 1960s and previously repaired in 2007. The new bridge is expected to last into next century.
Project improvements
This is a bridge replacement project, including demolition of the existing structure and replacing it with a prestressed concrete girder bridge. Construction includes paving approach slabs, beam guard replacement, curb and gutter, and concrete surface drains.
Traffic impacts
The northbound WIS 32 bridge and southbound County PP will require full closures to replace the structure.
The northbound WIS 32 bridge over County PP will be CLOSED for the duration of construction.

Detour: Northbound WIS 32 traffic will be directed to use County X (Heritage Road) to County PP (S Broadway Street) and back on WIS 32.

Southbound County PP will be CLOSED to through traffic between WIS 32/57 and O'Keefe Road. Access will be maintained to properties in the closed portion of County PP.

Detour: Southbound County PP traffic will utilize WIS 32 to County X (Heritage Road) to County PP (S Broadway Street).
Temporary business signing
Temporary business signing may be placed during the detoured portion of the project by filling out a WisDOT business signing permit. All temporary business signing needs approval via the permit before placement to ensure it is in a safe location and does not pose a visual distraction or traffic hazard. The temporary business signing permit is free. Costs associated with creating the temporary sign are the responsibility of the business. The permit is available as a fillable-form WORD document or pdf below, or you can request one from the project contacts below.
Please email or mail the free permit to any of the contacts below.  For more information regarding temporary signing, plus tips and tools for businesses impacted by highway construction, please visit WisDOT's In This Together business resource website.
Onsite Construction Project Leader-Please contact the construction project leader with any in-construction related questions.
Ryan M. Umentum, P.E.
rumentum@klengineering.com
920-217-1689 – Cell
WisDOT Project Manger
Kristen Berg, P.E., Project Manager, WisDOT
WisDOT Northeast Region
944 Vanderperren Way
Green Bay, WI 54304
(920) 492-0139
Kristen.berg@dot.wi.gov