Construction complete. Website for reference only.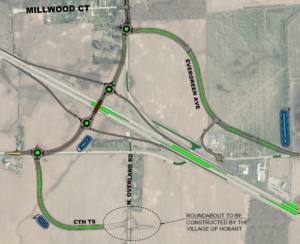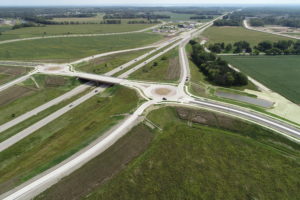 Read press release from August 30, 2022 – All ramps open on new WIS 29/County VV interchange.
Brown County received approval of a Federal Highway Administration (FHWA) Better Utilizing Investments to Leverage Development (BUILD) Grant to complete design and construction of a portion of the previous WIS 29 (County U – Woodland Road) Planning Study. The BUILD Grant scope includes construction of an interchange at WIS 29 & County VV. The Wisconsin Department of Transportation (WisDOT) will oversee intersection construction. The purpose of the WIS 29/County VV Interchange Project is to address the safety and mobility for traffic along WIS 29 between Shawano and Green Bay.
Note: Local construction on local roads will take place along concurrently with state construction of the interchange. Contact information for local projects is included below.
Project Location
State Highway Project Improvements
Construction by WisDOT includes the following improvements:
(View overall project improvement display here) 20 MB
Construction of a diamond interchange at County VV
Realignment of Milltown Road
Connection from County VV to North Overland Road
Removal of the existing Restricted Crossing U-Turn (RCUT) intersection at County VV
Contact WisDOT Construction Project Staff
Local Road Construction
Local road construction conducted by the village of Hobart and Brown County will take place along concurrently with state construction.
N Overland Roundabout Project (Hobart)
Marley Street Project (Brown County)
Overview of construction staging/traffic impacts – Project complete – no traffic impacts.
Construction will be staged in specific timeframes over the next two year. Each stage, beginning with 1A, is shown on contractor staging maps below. The staging maps also list anticipated work and traffic impacts.  All dates are subject to change due to weather or other factors affecting construction.  Specific construction activities taking place over a two-week period is published every Friday on the Northeast Region Weekly Construction Update.
2021 construction summary
Below is a summary of staging for traffic impacts in 2021.
Soil mitigation and large fills (including overpass and ramps)
Evergreen Avenue roadway and pond construction
Marley Street/Evergreen Avenue roundabout construction
Millwood Court intersection construction and County VV pond construction
The connection roadway to North Overland Road and pond construction
North Overland Road roundabout to be constructed by village of Hobart
Temporary connection between WIS 29 and Evergreen Avenue
2022 construction summary 
ALL FOUR RAMPS OF NEW INTERCHANGE NOW OPEN
Construction began Tuesday, March 8. Please our staging maps for 2022 construction here. Below is a summary of the contractor staging and traffic impact document.
Work Anticipated
Bridge construction
Roadway construction including storm sewer on large fills
Median Grading and guardrail around bridge pier
Construct ramp matches to WIS 29
Marley Street north of Millwood Court to be constructed by Brown County
County VV roundabout
Finish any remaining roadway construction
Temporary Business Signing – Local
The Village of Howard will provide temporary business permit and coordinate Temporary Construction Business Signs (TCBS) for larger Howard Business on local roadways. TCBS are not permitted along the highway. Please contact Howard Public Works at 920-434-4060 and be prepared to provide a simple, easily-recognizable, high resolution logo by email in JPEG, EPS or PDF file format. Please do not contact WisDOT if you are a Howard business looking for sgnage on the Local Roadways. The village will coordinate with you. Please see the village of Howard TCBS document below for more information.
Temporary Business Signing – State
Temporary business signing may be placed during the detoured portion of the project by filling out a WisDOT business signing permit. All temporary business signing needs approval via the permit before placement to ensure it is in a safe location and does not pose a visual distraction or traffic hazard. The temporary business signing permit is free. Costs associated with creating the temporary sign are the responsibility of the business.
Please keep the following items in mind regarding business signing:
Temporary business signing cannot be placed on traffic control devices or state signs. Business signs attached to these devices will be removed.
It is encouraged that businesses team up to have multiple businesses advertised on one sign structure versus several individual signs. This makes it easier for travelers to identify signs and find their destination
The permit is available as a fillable-form WORD document (below) or you can request one from Jesse Hansen, P.E., WisDOT Project Manager, (920) 362-6095
jesse.hansen@dot.wi.gov
Please email the completed permit to Jesse, or if you prefer to mail the completed form, please address to: Jesse Hansen, WisDOT NE Region, 944 Vanderperren Way, Green Bay, WI 54304.
In This Together Business Resource
WisDOT recognizes businesses located in work zones have special needs. While signing and other marketing/advertising during the construction is up to the business, WisDOT has business resources available through its "In This Together" website to assist businesses with planning for construction closures and to minimize the impact of construction. For more information, please visit WisDOT's In This Together website at https://wisconsindot.gov/together
Please see the project contact page for project construction engineer contact email and phone number.