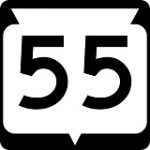 UPCOMING TRAFFIC ALERT: The WIS 55/I-41 interchange will CLOSE Monday, July 30 to all traffic for 90 days.
Welcome to the website for the WIS 55 urban reconstruction project in the city of Kaukauna in Outagamie County. Below you can find construction details, traffic impacts, detour routes, project photos, information for property owners and businesses in the work zone and temporary signing information for businesses. If you have any questions, please call or email any of the project staff.
Project overview
WIS 55 is a primary I-41 access point for the city of Kaukauna and its busy industrial park. The highway is in need of reconstruction due to the deterioration of the roadway and a lack of capacity between County OO and the I-41 interchange. The intersections in the vicinity of the I-41 interchange are experiencing extensive delays during peak traffic hours. This project will reduce congestion and improve safety with intersection and roadway modifications including the creation of four roundabouts, traffic signals at WIS 55/WIS 96, and improved bike/pedestrian accommodations. New pavement and roadway subsurface will provide a smoother driving surface, extend the service life of the highway and reduce maintenance costs.
Project location and limits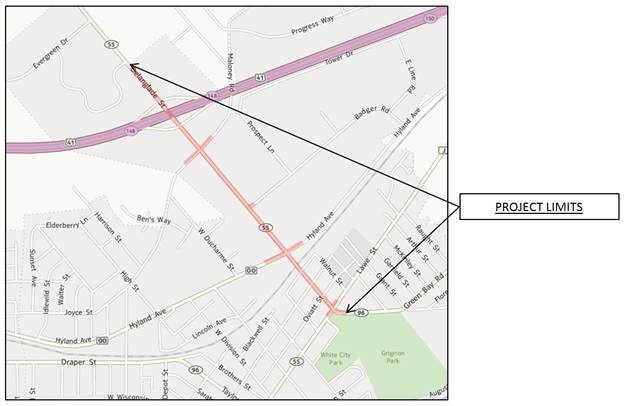 The project is located on WIS 55 (Delanglade Street) in the city of Kaukauna. The project limits are from the intersection of Lawe Street to approximately 1000 feet north of I-41.
Project schedule
The project begins in mid-March of 2018 and finishes in October of 2018.
Construction overview
Reconstructing one mile of WIS 55 from a rural section to an urban section
Signalizing the WIS 55/WIS 96 intersection
Adding four roundabouts

WIS 55/I-41 northbound ramp
WIS 55/I-41 southbound ramp
WIS 55/Gertrude/Maloney
WIS 55/County OO

Adding bike/pedestrian accommodations from County OO to the north end of the project
Staging, traffic impacts and detours
WIS 55 traffic will be detoured in three main stages as listed below with tentative timelines. Construction will be staged in manner to provide business and residential access throughout construction. The stages may overlap and are subject to change. Please check back for specific dates of staging closures.
Stage 1: March to June 9 2018
WIS 55 will be closed to through traffic from Gertrude/Maloney Rd to Lawe St and detoured
Stage 1 detour: WIS 55 will be detoured via County J and County JJ
Stage 2: June 9 to end of August 2018
The through movements on County OO at the intersection of WIS 55/County OO will be reopened and used as part of the Stage 2 detour while the WIS 55/WIS 96/County J intersection is closed. The north/south leg of the intersection remains closed and under construction.
Stage 2 detour: WIS 55 will be detoured via WIS 96 to Gertrude St to County OO to County J to County JJ
Work along WIS 55 will continue from Gertrude/Maloney Rd to Lawe St.
Stage 3: July 30 to end of October 2018
The I-41/WIS 55 interchange will be closed for 90 days (I-41 will remain open to traffic).
Gertrude/Maloney Road will be closed during this stage.

Note: Gertrude/Maloney Road will be required to be OPEN within the first 40 days of the 90-day interchange closure start.

Stage 3 detour: WIS 55 will be detoured via County OO to County J to County JJ.
WIS 55 construction detail: New roadway typical sections
I-41 southbound on/off ramps and the north project limits
The new WIS 55 typical section will consist of:
One lane of traffic in each direction
Additional roadway width will be provided in the southbound direction to provide a right turn lane to the southbound I-41 on-ramp
Existing northbound left turn lane to Arbor Way will be maintained
Multi-use trail along the west side of the road (end at Arbor Way)
I-41 northbound on/off ramps to north project limits
The existing width available on WIS 55 underneath the I-41 bridges allows for the construction of 3 lanes of traffic between the existing bridge support piers. The new WIS 55 typical section between the northbound and southbound ramps consists of:
Two northbound travel lanes
One southbound travel lane
Multi-use path through the interchange on both sides of the road
County OO to I-41 northbound on/off ramps
Two lanes of traffic in each direction are required to accommodate the existing and future traffic volumes between County OO and the I-41 northbound on/off ramps. This section of WIS 55 roadway will include a 4-lane, undivided roadway with an inside lane width of 11 feet and an outside lane width of 14 feet. A 10-foot wide multi-use path would be constructed along the west side the road, and a 5-foot wide sidewalk will be constructed along the east side of the road. Both sides of the road would include a 5-foot wide grass terrace.
Lawe Street to County OO
This section of WIS 55 roadway will include a 36-foot wide urban roadway,  11-foot wide travel lanes and a 5-foot wide bike lane in each direction. The grass terrace will be 6-feet wide. The sidewalks will be reconstructed in the same location as the existing sidewalks.
Business signing during detour
Temporary business signing may be placed during the detoured portion of the project by filling out a business signing permit, free of charge. All temporary business signing needs approval before placement to ensure it is in a safe location and does not pose a visual distraction or traffic hazard.
Please keep the following items in mind regarding business signing:
Temporary business signing cannot be placed on traffic control devices or state signs. Business signs attached to these devices will be removed.
It is encouraged that businesses team up to have multiple businesses advertised on one sign structure versus several individual signs. This makes it easier for travelers to identify signs and find their destination.
Temporary Business Sign permits are available as a fillable-form WORD download (above) or you can request one from construction project manager Tim Rank by calling (920) 360-2579 or email Tim.rank@dot.wi.gov.
Please email the completed permit as an attachment to Tim, or if you prefer to mail the completed form, please address to: Tim Rank, WisDOT NE Region, 944 Vanderperren Way, Green Bay, WI 54304.
In This Together program for businesses
WisDOT recognizes businesses located in work zones have special needs. It's critical that customers have access to businesses and that they continue to visit them, regardless of any road work inconvenience. While signing and other marketing/advertising during the construction is up to the business, WisDOT has business resources available through its "In This Together" website to assist businesses with planning for construction closures and to minimize the impact of construction. On the "In this Together" website, businesses can find:
Specially designed workbook for businesses to succeed during a highway construction project, includes information on:

Planning ahead
Staying informed
Keeping customers informed
Tips for businesses

Case studies that demonstrate techniques that have been successfully used in communities throughout Wisconsin.
Promotional samples showing a variety of examples of how businesses have promoted their businesses during construction.
This program is offered to business and community leaders as an idea source as they plan for road construction in their area. Through communication and cooperation, businesses can not only survive, but thrive, when road construction comes to town. Please visit the In This Together website here.