Project Location
Connecting I-94 and WIS 59 via a new bypass expanding the former footprint along Meadowbrook Road/Merrill Hills Road. View project overview information here.
City Portion (2017) – Northview Road to I-94
WisDOT/Waukesha County Portion (2017/2018) – US 18 (Summit Avenue) to Northview Road
WisDOT Portion (2018/2019) – WIS 59 to US 18 (project overview )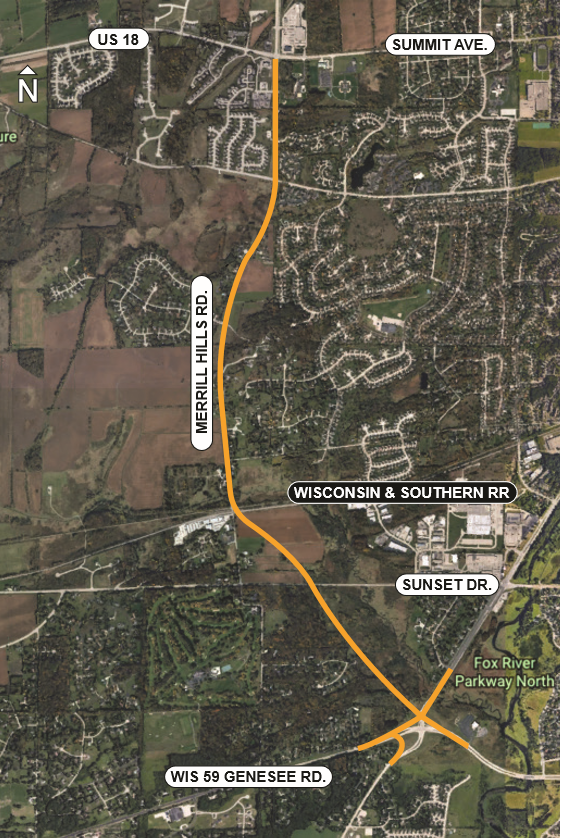 In 2019, crews will be working on Phase 2 of the West Waukesha Bypass by focusing on improvements from WIS 59 to US 18. The realignment of Merrill Hills Road is currently underway.
Improvements made during Phase 2:
Construct a 4-lane divided highway
Upgrade intersections with right and left turn lanes
Install 4 traffic signals at Madison Street, Sunset Drive, WIS 59, and County X
Extend the 10-foot asphalt shared-use path south along the east side of the roadway to Sunset Drive
Extend the 5-foot sidewalk south along the west side of the roadway to Kame Terrace
Construct a new at-grade crossing with the railroad which will include signals and gates
Construct a pedestrian underpass at the Glacial Drumlin Trail with connections to the shared-use path adjacent to the bypass
Phase 2 Roadway Graphics:
Purpose and Need
In April 2009, a Memorandum of Understanding was signed by Waukesha County, the City of Waukesha, the Town of Waukesha, and WisDOT, identifying the local, county, and state responsibilities for building the West Waukesha Bypass. The intent of the project is to provide a roadway facility on the west side of the City of Waukesha to safely and efficiently accommodate existing and future traffic volumes. To better accommodate the flow of traffic, segments of the existing roadway will be expanded from two lanes to four. This project will provide a link around the city by connecting I-94 and WIS 59.
Schedule
May 2017 – Late Fall 2019
Note: Majority of the work has been completed and the bypass is now open to traffic. Crews will finish up work that remains in spring 2020.