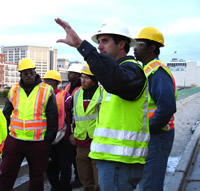 WisDOT anticipates a number of Disadvantaged Business Enterprise (DBE) contracting and labor training opportunities during the I-94 North-South Freeway Project. To ensure that the project's labor development and disadvantaged business contracting goals meet the needs of the communities along I-94, WisDOT created the DBE Business Advisory and Labor Advisory committees.
The Labor Advisory Committee will help address workforce training, accessibility to jobs and long-term prospects for the labor force. The Business Advisory Committee will help WisDOT set DBE contracting goals, market the opportunities to DBE firms, help DBE firms develop capacity and capabilities, and monitor contracting progress.
There are various business and labor opportunities on the project, including those for certified Disadvantaged Business Enterprise (DBE) firms. Opportunities include:
Construction administration
Earthwork
Traffic control and safety
Pavement
Structures — bridges, culverts and walls
Landscaping
Trucking
Demolition
To request a DBE application or learn more about business and labor opportunities, call (414)438-4583 or visit http://www.dot.wisconsin.gov/business.