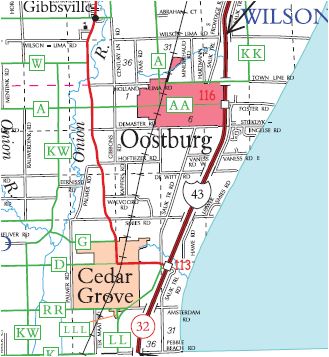 PROJECTS COMPLETE. WEBSITE FOR REFERENCE ONLY.
Project Locations
Two projects will be taking place in Sheboygan County. The WIS 32 project is located in the town of Holland and village of Cedar Grove in Sheboygan County. The 1.01-mile improvement extends from County D to I-43.
The I-43 project extends from the southern Sheboygan County line northward to Wilson/Lima Road in the towns of Wilson and Holland, villages of Oostburg and Cedar Grove.
Project Overview
WIS 32 (COMPLETE)
WIS 32 improvement consists of making repairs to the existing concrete in various locations and then overlaying with an asphaltic pavement. A smaller portion of the project length at the railroad crossing and approaches will be reconstructed to smooth out the roadway at the railroad crossing.
Railroad crossing replacement
Curb & gutter, sidewalk, and culvert replacement
Concrete milling and asphalt pavement
Shoulder gravel, pavement marking, signing, and restoration
I-43 (COMPLETE)
The I-43 improvements consists of making necessary spot repairs to the existing pavement, milling off an upper layer of deteriorated asphaltic pavement, and then overlaying with new asphaltic pavement.
Traffic Impacts (NONE)
I-43
I-43 traffic will be reduced to one lane in each direction. The ramps at WIS 32 and County AA may be closed at night for one or two nights per ramp during construction.
WIS 32
WIS 32 will be closed to through traffic from Main Street to Sauk Trail Road from Monday, August 2 to September 1, 2021.
During the WIS 32 reconstruction at the railroad tracks, adjacent sidewalks will be closed, and pedestrian
and bicycle traffic will be detoured.

Detour : The pedestrian and bicycle detour route will use Main Street, the Sheboygan Interurban Trail, and Commerce Street.
The Sheboygan Interurban Trail will remain open at all times during construction.
Project Benefits
The WIS 32 existing pavement was constructed in 1970 and 1976 with  this portion of WIS 32 last repaired in 2005.  The I-43 pavement was constructed in 1970 and 1974 with the pavement between the south county line and Wilson-Lima Road receiving an asphaltic maintenance overlay in 2010. These projects will add longevity to the pavement life and improve the riding surface.
Temporary Business Signing
Temporary business signing may be placed during the detoured portion of the project by filling out a WisDOT business signing permit. All temporary business signing needs approval via the permit before placement to ensure it is in a safe location and does not pose a visual distraction or traffic hazard. The temporary business signing permit is free. Costs associated with creating the temporary sign are the responsibility of the business.
Please keep the following items in mind regarding business signing:
Temporary business signing cannot be placed on traffic control devices or state signs. Business signs attached to these devices will be removed.
It is encouraged that businesses team up to have multiple businesses advertised on one sign structure versus several individual signs. This makes it easier for travelers to identify signs and find their destination.
Temporary Business Sign permits are available as a fillable-form WORD download (below) or you can request one from project manager Kyle Treml at (920) 360-7029 or email Kyle.treml@dot.wi.gov.
Please email the completed permit to Kyle, or if you prefer to mail the completed form, please address to:
WisDOT – Kyle Treml
944 Vanderperren Way
Green Bay, WI 54303
In This Together Business Resource
WisDOT recognizes businesses located in work zones have special needs. While signing and other marketing/advertising during the construction is up to the business, WisDOT has business resources available through its "In This Together" website to assist businesses with planning for construction closures and to minimize the impact of construction. For more information, please visit WisDOT's In This Together website at https://wisconsindot.gov/Together.
Project contact
Kyle Treml, P.E.
WisDOT Project Manager
944 Vanderperren Way
Green Bay, WI 54303
Phone: (920) 360-7029
Email: Kyle.treml@dot.wi.gov