Janesville to Edgerton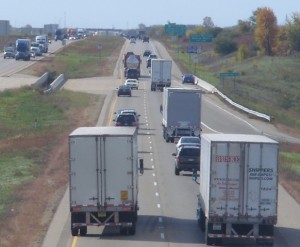 This segment extends 13 miles along I-39/90 from County O, south of Janesville, north to the Dane/Rock County line. The Interstate will be reconstructed and expanded to eight lanes (four in each direction) from County O to WIS 26 interchange. Six lanes will continue from the WIS 26 interchange north to the Dane/Rock County line.
Interchanges to be reconstructed include:
WIS 11 (Racine St.) – completed in 2013
US 14
WIS 26
WIS 59 – completed in 2016
The reconstruction will address roadway deficiencies. Grade separated crossings along the segment are also included in the reconstruction.
The I-39/90 Expansion Project began in 2015 and the mainline project is currently anticipated to be completed in 2021.