Why is this project needed?
Roadway traffic and capacity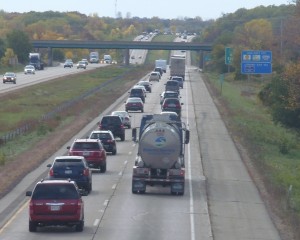 Interstate 39/90 is experiencing traffic slowdowns and backups, particularly during peak travel times. In 2011, the Interstate carried an average of more than 50,000 vehicles per day. During summer 2011, traffic volumes along the corridor exceeded 70,000 vehicles per day. These volumes are predicted to increase to between 60,000 and 80,000 vehicles per day by the year 2040.
I-39/90 is also a federal truck route, with about 35 percent of its total traffic volume consisting of heavy trucks. That's an increase from 30 percent truck traffic in 2007.
Without corrective action, future travelers will experience deteriorating driving conditions within the corridor, including significantly reduced speeds and worsening congestion. Crashes and other traffic events will routinely result in extensive backups and excessive delays.
Traffic safety
The number of traffic related crashes along I-39/90 between the Illinois state line and Madison have increased as travel volumes have grown. This trend is expected to continue if no improvements are made.
There was an average of 1,876 crashes along this stretch of Interstate for the 5-year period of 2012 to 2015. Of these, 591 resulted in injuries and 11 in fatalities.
Design features
This segment of I-39/90 was designed and constructed in the early 1960s. Since that time, design standards for interchanges and roadways have been updated to allow facilities such as the Interstate to maintain their functionality and operate more efficiently and safely.
Access to tourism
Tourism is vital to Wisconsin's economy. The tourism industry generates billions of dollars in state and local revenues, and provides several hundred thousand jobs. I-39/90 is one of the largest gateways for both in-state and out-of-state residents to get to the many tourism and recreational destinations in the state, including Wisconsin Dells and points further north.
Project benefits/proposed improvements
The outcome of the study is a recommended plan that will improve safety, ease congestion and modernize this important transportation corridor.
The proposed improvements are:
Reconstructing and expanding the existing four-lane divided Interstate to create a six-lane divided Interstate.
Reconstructing and expanding the Interstate to eight lanes from WIS 11 (Avalon Rd.) to WIS 26 interchange in Janesville.
Reconstructing the 11 interchanges within the corridor to update configurations including ramps to current design standards.