About the project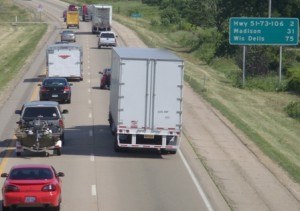 The reconstruction and expansion of I-39/90 in Dane and Rock County is one of the largest highway projects undertaken in south-central Wisconsin. Refining the roadway allows more motorists to conveniently travel the area, increasing economic activity in the entire region and providing new opportunities for growth in tourism and business.
I-39/90 is one of the most important transportation corridors in Wisconsin, and is an integral part of the national Interstate system.
Outside of the project area, I-39/90 links to other Interstates and major highways making it an important route in connecting various major cities, including: Chicago, Eau Claire, Green Bay, La Crosse, Milwaukee, Minneapolis and Wisconsin Dells.
Economic importance
Interstate 39/90 is vital to Wisconsin's economic future by serving as a major corridor for the transportation of people and commerce, as well as a gateway to many tourism and recreational destinations across Wisconsin.
Below are statistics highlighting the importance of I-39/90 to Wisconsin:
10,900 businesses are located in communities along the Interstate.
More than 260,000 employees are hired by businesses located in communities along I-39/90.
As a designated federal truck route, more than 30 percent of the Interstate's total traffic volume consists of heavy trucks.
The project area represents one of the "gateways" to the state in terms of tourism access and dollars spent by visitors to Wisconsin. In 2016, Dane and Rock counties had an estimated $1.45 billion impact in terms of visitor expenditures from food, lodging, retail sales and recreation in the communities along the Interstate.
More than 377,206 residents live in communities along I-39/90.