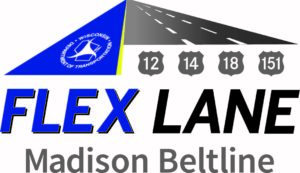 The Wisconsin Department of Transportation (WisDOT) made the following improvements on the Madison Beltline (US 12) between the Whitney Way exit and I-39/90:
Resurfaced the pavement;
Improved drainage deficiencies;
Replaced the median barrier wall; and
Upgraded Beltline median shoulders to be used part-time as travel lanes.
Upgrading the shoulders for through travel is a practice known as part-time shoulder use, which is branded in Wisconsin as the Flex Lane. The shoulder travel lanes would typically be open during peak periods to safely and efficiently improve travel reliability between Whitney Way and the Interstate.
What is Flex Lane or Part-time Shoulder Use?
Part-time Shoulder Use is recognized as a safe, sustainable and reliable way to alleviate congestion. It is already used in at least 17 other states. The concept allows vehicle traffic on the paved shoulders during peak travel times. Changeable message signs located above the lanes are used to indicate when the shoulder is available for use.​
Watch the video update on the Flex Lane (December 2021).