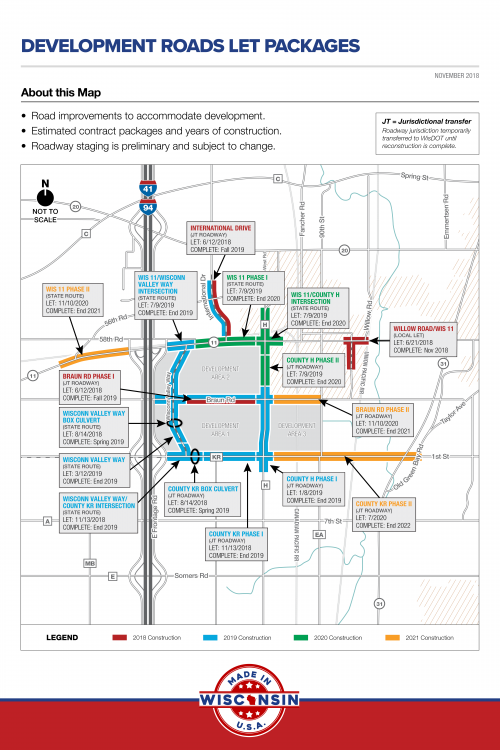 WisDOT is working with the Village of Mount Pleasant and Racine County on the reconstruction of several state, village and county roadways around the new Foxconn Development in Racine County.
Wisconn Valley Roadways Construction
View the weekly construction update under the Additional Resources tab.
Braun Road (I-94 to 90th Street)

The project began in August 2018 to reconstruct Braun Road to a six-lane urban roadway with concrete pavement between I-94 and County H. Braun Road is closed to motorists until fall 2019. Access will be maintained for emergency vehicles and contractor traffic.

International Drive (South limit to WIS 11)

The project began in August to construct International Drive, a new four lane concrete roadway connecting WIS 11 to WIS 20.  Construction is anticipated to be complete late fall 2019.

WIS 11 and Willow Road intersection 
Wisconn Valley Roadways Design
WIS 11 (56th Road to County H)
County H (County KR to Venice Avenue – north of WIS 11)
County KR (I-94 to Old Green Bay Road)
Braun Road (I-94 to 90th Street)
Wisconn Valley Way (County KR to WIS 11)
International Drive (South limit to WIS 11)
*Large files may take a moment to download.
 Jurisdictional Transfer Process
In November 2017, WisDOT took temporary jurisdiction over several local roadways. The temporary assigned jurisdiction of these local roads was granted to WisDOT because of the department's experience in delivering complex roadway projects that require coordinating aggressive delivery schedules. After reconstruction is complete, local jurisdiction will resume.
Additional Project Information
Schedule
Summer 2018 to fall 2021
I-94 North/South
Interested in the activity along the I-94 North/South project? Click here for more information. >> I-94 North/South project