The Wisconsin Department of Transportation (WisDOT) is underway with reconstructing the I-94 North-South Freeway. As part of this project, WIS 20, between County C and International Drive, is scheduled to be reconstructed.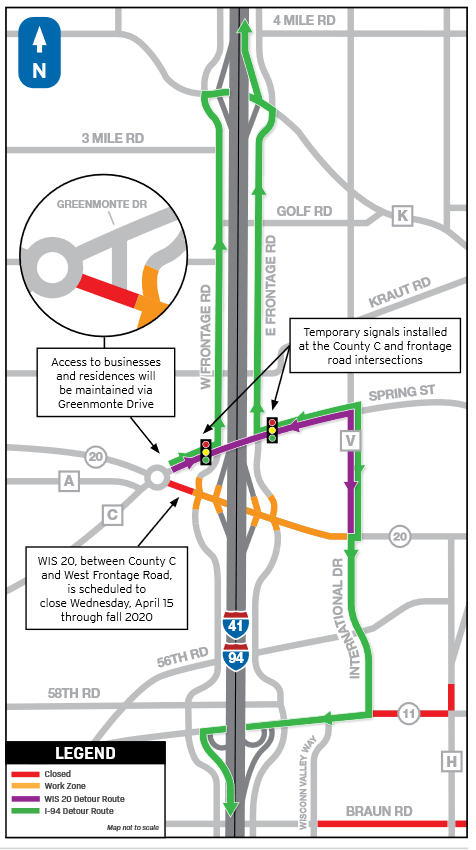 Early Spring 2020:
A long-term lane closure on eastbound WIS 20, from Spokes Circle to International Drive, began April 1 and is scheduled to remain in place for approximately three weeks. This includes a left-turn lane closure on the exit ramp from I-94 EAST (SB) to WIS 20.
Temporary signals will be installed on County C at the frontage roads. Once installed, WIS 20, between County C and West Frontage Road, is scheduled to close through fall 2020.
Roadway resurfacing of International Drive is also planned at the beginning of this project to prepare for an anticipated increase in traffic. The resurfacing of International Drive will be completed with lane closures.
Impacts to traffic staging on WIS 20 will be as follows:
Two lanes of traffic on westbound WIS 20 between I-94 WEST (NB) ramps and West Frontage Road.
One lane of traffic on westbound WIS 20 between International Drive and I-94 WEST (NB) ramps.
Two lanes of traffic on eastbound WIS 20 between West Frontage Road and International Drive.
Spring 2020:
I-94 entrance and exit ramps will be reduced to one lane of traffic. Access to entrance ramps from WIS 20 will be right-turn only. To facilitate some construction operations, each entrance ramp to I-94 is scheduled to close for approximately three weeks summer 2020 (non concurrent).
Access to businesses and residences will be maintained.
Detour route: Motorists should utilize County C and County V to get around the WIS 20 closure.